Brush with Our Time
with Kazuaki Tanahashi
May 22 - 24, 2020
The practice of calligraphy teaches us that anyone can be creative. Whether you are a beginner or an advanced calligrapher, any one of you can expand your creativity and enjoy making artwork. You can apply your creativity in your daily activity, whether you are a student, teacher, parent, scientist, or artist.
We will begin by exploring the 1700 year old wisdom of East Asian calligraphy as we look at ancient Chinese masterpieces. Then we will engage the heart of the learning and creative process by faithfully copying selected ideographs in different styles. While practicing basic aesthetics and techniques of brushwork, we will notice our own imperfections and inner criticisms that usually keep us from fully enjoying each moment. Step by step, we will find ways to increase the degree of our enjoyment and serene excitement, which can be applied in everyday life. Using a variety of paper and brushes of different sizes, we will also experiment with artistic interpretation and expressionistic improvisation. No previous experience is needed. Kaz will bring brushes and paper.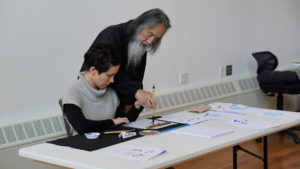 Please don't let financial issues prevent you from attending a program at the Monastery. If you can't afford the program fee, there are options. 
Teacher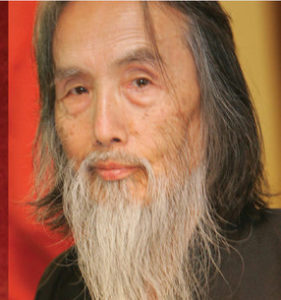 Kazuaki Tanahashi
Kazuaki Tanahashi, born in Japan in 1933, and active in the United States since 1977, is an artist, writer, translator, and peace and environmental worker. As a painter and calligrapher, he has been pioneering the genres of one-stroke painting, multi-color Zen circles and East Asian calligraphy. Kaz has participated in exhibitions worldwide and taught numerous workshops. He has produced over forty books in English and Japanese including his most recent, Painting Peace: Art in a Time of Global Crisis.
Learn more about Kazuaki Tanahashi