Zen Essentials — Studying the Self: The Challenge
with Mn. Gokan Bonebakker
January 30, 2020
The Essentials of Zen seminars offer an opportunity to work more informally with some of the MRO seniors and teachers. They are particularly geared towards those newer to practice, but are open to all practitioners.
In this session, we'll discuss some of the challenges that students encounter at different times in their practice. These are common obstacles that are helpful to recognize and understand so we can move with less hindrance and greater trust and confidence along the Path. Everyone experiences times when it is difficult to keep a steady practice going due to strong emotions, a restless or agitated mind, or feelings of apathy or complacency. We can also face obstacles that come from daily life—our work, family or other obligations—which can be perceived to conflict with our Buddhist practice. While such obstacles are experienced by all practitioners, at the moment when we are facing them ourselves it can sometimes be difficult to know how to proceed.
We'll explore how, in facing these obstacles with wisdom and honesty, we begin to develop skillfulness in meeting the challenges of life, and greater compassion for both ourselves and others. In this way, these obstacles—rather than being burdens—can allow us to move ever deeper into our practice. This seminar will be a practical look at these issues with many opportunities to ask questions. Refreshments will be served.
Suggested donation $10-$15.
Teacher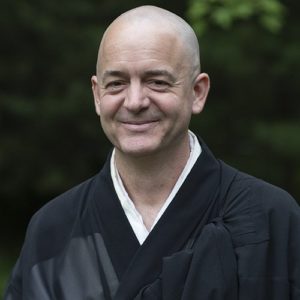 Mn. Gokan Bonebakker
Bear Gokan Bonebakker first came to the Monastery in 1994, and has been in residence since 2007. He was ordained in 2014. Gokan is the Operations Director, helps coordinate the National Buddhist Prison Sangha, and works in the orchard.
Learn more about Mn. Gokan Bonebakker