An Evening of Poems from the First Buddhist Women (Therigatha)
with Jody Hojin Kimmel, Sensei
April 16, 2020
The Therigatha are a collection of poems by the first Buddhist women ordained at the time of the Buddha. These poems are called udanas, inspired utterances about the joy of realizing freedom from suffering.
They are also great literature in the way that Ezra Pound meant when he said "Literature is news that stays news".
Let us join together for this evening to bring these womens' poems to life and see how much they may delight us today and experience how they are also able to change how we see ourselves. 
Teacher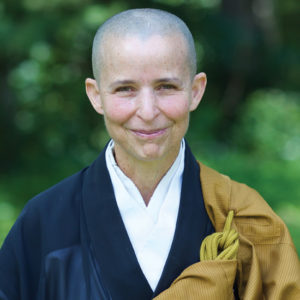 Jody Hojin Kimmel, Sensei
A Zen priest, Jody Hojin Kimmel, Sensei received transmission of the Precepts from Daido Roshi, who began the process in 2009, and from Shugen Roshi, who completed the transmission in 2012. In 2017, she received full dharma transmission from Shugen Roshi. She currently serves as MRO Director of Training and co-Director of the Zen Center of NYC. Before entering the Monastery in 1990, Hojin Sensei studied fine art and trained under legendary ceramicist Toshiku Takaezu, among others. Over the years she has taught drawing, ceramics, and painting, and continues to teach on the creative process within the Mountains and Rivers Order.
Learn more about Jody Hojin Kimmel, Sensei