Its Alive! An Art Practice Retreat
with Jody Hojin Kimmel, Sensei
April 18, 2020
Its Alive!
An Art Practice Retreat
Buddhadharma teaches that our life can be experienced as a miraculous display of awakened nature, in which all phenomenon spring from the same source, the ordinary magic of mind.
In this retreat, we will practice meeting the many aspects of ourselves with loving attention, appreciating every moment as a changing, shifting display. Engaging our raw materials, we'll cultivate inquisitiveness and wonder as we meet all of what arises, relax our grip and perhaps taste the possibility of direct, spontaneous, alive responses. Creative expression can open a door to deepening trust in our lives, and in those elements of our life and aspects of our ourselves that we have yet to see or imagine. As we attune to how the visible and invisible work together to produce the miraculous, beautiful shapes that are born out of silent space and energetically alive.
_________________________________________________________
We strive to keep our retreat prices low and offer these programs on a sliding scale. It's important that the dharma is available to everyone. Thank you for your continued support.
No deposit is necessary to register. You can pay the full balance at the door by cash, check or credit card.
Teacher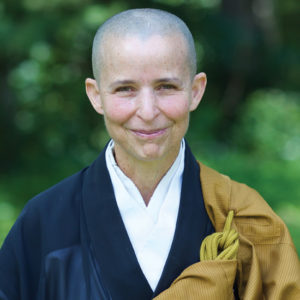 Jody Hojin Kimmel, Sensei
A Zen priest, Jody Hojin Kimmel, Sensei received transmission of the Precepts from Daido Roshi, who began the process in 2009, and from Shugen Roshi, who completed the transmission in 2012. In 2017, she received full dharma transmission from Shugen Roshi. She currently serves as MRO Director of Training and co-Director of the Zen Center of NYC. Before entering the Monastery in 1990, Hojin Sensei studied fine art and trained under legendary ceramicist Toshiku Takaezu, among others. Over the years she has taught drawing, ceramics, and painting, and continues to teach on the creative process within the Mountains and Rivers Order.
Learn more about Jody Hojin Kimmel, Sensei