Chado: The Way of Tea (via Zoom)
with Andrew Hobai Pekarik
June 20, 2020
The Japanese tea ceremony merges the sophisticated aesthetic of the Zen arts and careful attention to detail with the ordinary act of making a cup of tea. Tea ceremony developed in close association with Zen, and it emphasizes awareness, tranquility, and the interrelationship of host and guest. For those who are new to meditation practice, tea ceremony can be a path to entering the larger universe of Zen and its arts. For those who practice zazen, tea ceremony offers an incisive opportunity for expressing the mind of Zen in everyday activity.
This virtual retreat will be an introduction to tea ceremony, including demonstrations and discussion. At the heart of it will be the appreciation of this very moment, and the joy of sharing that with others. Hobai is a gifted storyteller, and is adept at infusing his teaching of tea with stories of the great tea masters of the past, as well as his own experiences as a student of tea. Several tea students and residents at the Monastery will be demonstrating over Zoom in tandem with Hobai who will be joining us from his own personal backyard teahouse.
This program is for anyone interested in the Zen arts, in Japanese culture, in a practice to help focus and concentrate the mind, or in the taste of tea. No prior knowledge of tea ceremony is required, and those who are already familiar with tea ceremony are welcome to expand and deepen their understanding in this program.
Participants are encouraged, but not required, to procure for themselves at least one ounce of ceremonial grade matcha,  a tea whisk and sifter (or just a strainer).
We recommend 
Hibiki-an
 for ordering tea directly from Japan. You can't go wrong with Hibiki-an's tea selections.  Another option is
Arbor Teas
from Michigan. They carry organic matcha and a variety of tea implements. You can also find tea whisks, bowls and scoops all over the Internet. It doesn't cost much to make a wise investment in your studies of the Way of Tea.
You are also welcome to join the workshop to just watch and learn.
Saturday, June 20, 2:00pm- 4:30pm
Your registration confirmation will include a link to the Zoom session.
Donations are appreciated to help support our efforts during this time.
Teacher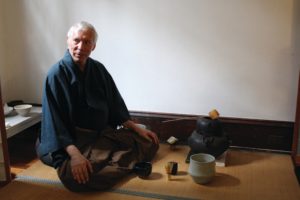 Andrew Hobai Pekarik
Andrew Hobai Pekarik has been a student of tea ceremony in the Urasenke tradition since 1977, and a Zen student in the Mountains and Rivers Order since 1994. He constructed his own teahouse, and he has been involved with Japanese art and literature as a scholar, curator, and author.
Learn more about Andrew Hobai Pekarik