Art Practice Session VIII (via Zoom): This World Holds Our Very Life
with Jody Hojin Kimmel, Sensei
May 22, 2020
Mesmerized by our own thoughts of how things are, it is difficult to attend to what we actually perceive and how we experience things. When we do, we see that each moment—even with the same thing, or same companion day after day, year after year—has its own unique being, its own reality, its own 'message' to us at that moment. What kind of message could a thing have? Could it possibly be bringing us our very life so that what is communicated touches the very depths of our being and changes us? Come along and join the art practice sessions. Newcomers are always welcome.
Your registration confirmation will include a link to the Zoom session.
Donations are appreciated to help support our efforts during this time.
Teacher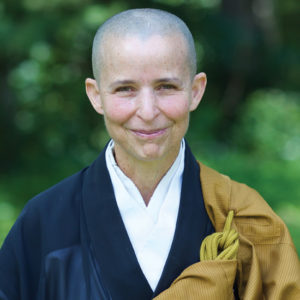 Jody Hojin Kimmel, Sensei
A Zen priest, Jody Hojin Kimmel, Sensei received transmission of the Precepts from Daido Roshi, who began the process in 2009, and from Shugen Roshi, who completed the transmission in 2012. In 2017, she received full dharma transmission from Shugen Roshi. She currently serves as MRO Director of Training and co-Director of the Zen Center of NYC. Before entering the Monastery in 1990, Hojin Sensei studied fine art and trained under legendary ceramicist Toshiku Takaezu, among others. Over the years she has taught drawing, ceramics, and painting, and continues to teach on the creative process within the Mountains and Rivers Order.
Learn more about Jody Hojin Kimmel, Sensei