For the Love of Life: An Art Practice Series (over Zoom)
with Jody Hojin Kimmel, Sensei
July 3 - August 28, 2020
Buddhadharma teaches that our life can be experienced as a miraculous display of awakened nature in which all phenomenon spring from the same source, the ordinary magic of mind. In this new Zoom series, we will practice the wonder of how to meet the many aspects of ourselves, our materials, and objects with loving attention, opening the senses every moment as a changing, shifting display.
Zazen practice will be the basic ground as we attune to how the visible and invisible work together to produce the miraculous, beautiful shapes, sounds, movements and colors that are born out of stillness, silence and spaciousness all energetically alive. 
 Three Fridays a Month: July 3, 17 & 31st: 10:30am-12:00pm.  August 7, 14 & 28th: 10:30am-12:00pm.
Participate in the series or come for one or more session. Drop-ins welcome; not necessary to be part of all sessions.
Your registration confirmation will include a link to the Zoom session.
Donations are appreciated to help support our efforts during this time.
Teacher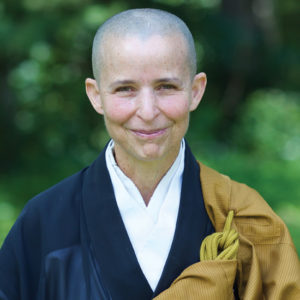 Jody Hojin Kimmel, Sensei
A Zen priest, Jody Hojin Kimmel, Sensei received transmission of the Precepts from Daido Roshi, who began the process in 2009, and from Shugen Roshi, who completed the transmission in 2012. In 2017, she received full dharma transmission from Shugen Roshi. She currently serves as MRO Director of Training and co-Director of the Zen Center of NYC. Before entering the Monastery in 1990, Hojin Sensei studied fine art and trained under legendary ceramicist Toshiku Takaezu, among others. Over the years she has taught drawing, ceramics, and painting, and continues to teach on the creative process within the Mountains and Rivers Order.
Learn more about Jody Hojin Kimmel, Sensei