Remembering to Practice Even When It's Difficult
with Ron Hogen Green, Sensei
July 2, 2020
In facing difficult moments we may find ourselves trying to avoid our true feelings and thereby protect ourselves from pain. But often this kind of avoidance causes deeper pain and doesn't help alleviate the difficulty for anyone at all. And while it seems that we should hold on to what privileges we have, often trying to hold on to our ownership or status hastens their loss and often deeply harms others in the process. How can we practice our blindness to karma—our personal karma—which may be contributing injustices? How do we hold close rather than avoid responsibility for our actions; our living karma?
Using traditional practices of the Lojong, Hogen Sensei introduces and explores methods for bringing "off the meditation cushion" an openness and skillfulness in helping ourselves face misfortune and difficult times. How can we practice navigating our sickness: the heartsickness of injustice and its violence? How can we practice dying: our own death and the deaths before us in the news? Buddhist teachings and practices offer us opportunities to use what we encounter—no matter how painful, difficult or challenging—to reclaim our full humanity, and to manifest our lives in the service of goodness for all beings.
6:30pm – 8:30pm
Your registration confirmation will include a link to the Zoom session.
Donations are appreciated to help support our efforts during this time.
Teacher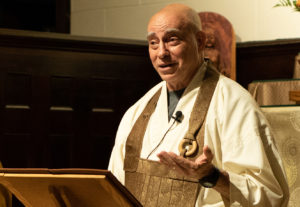 Ron Hogen Green, Sensei
Hogen Sensei has been engaged in formal Zen practice since 1978, and was in residential training at the Monastery for twelve years before returning to lay life in 2007. He shares his time between the Zen Center of NYC and rural Pennsylvania, where he lives with his family. Hogen received dharma transmission from Shugen Roshi in 2016.
Learn more about Ron Hogen Green, Sensei