Sacred Activity: A Seminar on Work Practice
with Mn. Gokan Bonebakker and Prabu Gikon Vasan
July 16, 2020
Work is something most of us spend a lot of our time engaging; a fundamental human activity. With the intention to wake up to our life, we can find ways to use work as a gate of practice: a way to study the self and to see more and more clearly.
This is not easy, or simple. Most of us have a lot of conditioning around work. Maybe it's something we do just to make money; or something we have to get through on our way to the weekend; or, maybe it's a way we define ourselves. Maybe the places where we work are advancing values and practices at odds with our understanding of right livelihood and generosity.
Especially during this current time of social isolation and economic downturn, the work sphere can be particularly fraught. Those of us working from home may be challenged to remain mindful of work in the midst of domestic tasks and obligations. Those who must travel to a worksite are faced with navigating health risks while commuting and while on the job.
In this seminar we'll look at work as practice, and at ways to practice at work. How do we apply the Buddhist teachings and practice the precepts in our workplace? Participants will be offered practical guidance on this aspect of Zen practice. There will be ample time for each participant can look in specific ways at their own situations, ask questions, and gain better understanding about the opportunities that are available as they continue to bring Buddhist practice more fully into their everyday lives.
6:30pm – 8:00pm
Your registration confirmation will include a link to the Zoom session.
Donations are appreciated to help support our efforts during this time.
Teachers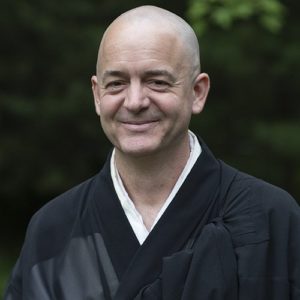 Mn. Gokan Bonebakker
Bear Gokan Bonebakker first came to the Monastery in 1994, and has been in residence since 2007. He was ordained in 2014. Gokan is the Operations Director, helps coordinate the National Buddhist Prison Sangha, and works in the orchard.
Learn more about Mn. Gokan Bonebakker
Prabu Gikon Vasan
Prabu Gikon Vasan is a licensed, clinical social worker with the Office of Mental Health at the University of Albany. He has been practicing within the Mountains and Rivers Order for twenty years and currently serves on the Monastery's Board of Directors. He lives in Kingston.
Learn more about Prabu Gikon Vasan