Compassionate Inquiry of the Heart-Mind
with Valerie (Vimalasara) Mason-John
July 10, 2020
In these turbulent times we may experience overwhelming emotions, feeling rage and anger, fear and anxiety, triggered at every turn. As practitioners we turn to the dharma for guidance in making compassionate inquiry into what is being activated. Meditation, liturgy and other forms of Buddhist practice can help us explore the sources of our "trigger" points and how to shift habitual response patterns of shutting down, raging, feeding our anxiety, abusing substances, or feeling exhausted and overwhelmed.
6:30pm – 8:30pm
Your registration confirmation will include a link to the Zoom session.
Donations are appreciated to help support our efforts during this time.
Teacher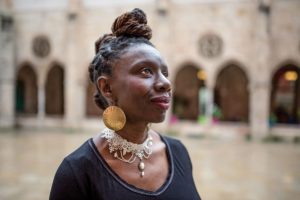 Valerie (Vimalasara) Mason-John
Vimalasara (Valerie Mason-John), is chair of the Triratna Vancouver Buddhist Centre and president of the Buddhist Recovery Network, and a senior facilitator in Compassionate Inquiry, and works as a Compassionate Inquiry Practitioner and a master trainer in conflict transformation, leadership and mindfulness. She is author of nine books, including Detox Your Heart: Meditations for Emotional Trauma — a self-help guide on mindfulness of negative emotions.
Learn more about Valerie (Vimalasara) Mason-John