Raw Materials: An All-Day Art Practice Retreat
with Jody Hojin Kimmel, Sensei
July 11, 2020
everything I pick up
is alive—
ebb tide
–Chiyo-ni
This full day retreat of creative expression practice will take place on and off zoom, in our home spaces and outdoors. Supported by zazen—connecting with the still point—we can practice to release our grasp to concepts, thinking about our experience. In this way we ripen and open though our senses to bring to life miraculous alive responses, touching more of who we truly are.
"Raw materials" are not only all that we bring in as 'our life'—the ups, and downs, the fears, all that is unsettled in our hearts—we will also bring a bounty of mark-making materials we discover which are offered by our Great Mother Earth. How do we use all the ingredients of our lives as being of benefit? Be prepared to be surprised!
What you will need: Elmer's glue, masking tape, scissors, various thicknesses of paper in smaller/larger sizes, a small bag for collecting found materials, a few mark makers (pens, pencils, markers, etc). If you are able to, have a mix of colorful flowers or an access to outdoor grasses and blooms. If you don't have access to all of these materials, bring what you do have.  You can write, do movement, sculpt, play an instrument and there will be a visual component to aid your expression.
Schedule
10am – noon    Zoom Introduction and Practice Prompts together.
Noon- 3:00      Solitary Art Practice
3:00-4 pm        Zoom Reconnect for Creative Audience Sharing & Retreat Closure
10:00am – 4:00pm
Your registration confirmation will include a link to the Zoom session.
Donations are appreciated to help support our efforts during this time.
Teacher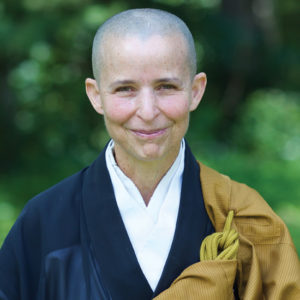 Jody Hojin Kimmel, Sensei
A Zen priest, Jody Hojin Kimmel, Sensei received transmission of the Precepts from Daido Roshi, who began the process in 2009, and from Shugen Roshi, who completed the transmission in 2012. In 2017, she received full dharma transmission from Shugen Roshi. She currently serves as MRO Director of Training and co-Director of the Zen Center of NYC. Before entering the Monastery in 1990, Hojin Sensei studied fine art and trained under legendary ceramicist Toshiku Takaezu, among others. Over the years she has taught drawing, ceramics, and painting, and continues to teach on the creative process within the Mountains and Rivers Order.
Learn more about Jody Hojin Kimmel, Sensei