Garden Dharma—Part II: Flower Power
with Choke Yukon Grody
August 27, 2020
How does your garden grow? One answer is "miraculously." Another is "through the efforts of many." Our gardens are a testament to the community of innovators, horticulturalists, hobbyists and laborers stretching back over millennia. In this second installment of Garden Dharma, we'll stop to smell the flowers, so abundant at this time in the summer. Yukon will offer some tips and sources and ask others to share a few of their own. There will also be time for more general questions about organic gardening.
Check out the Garden Dharma official video!
4-5:30pm
Your registration confirmation will include a link to the Zoom session.
Donations are appreciated to help support our efforts during this time.
Teacher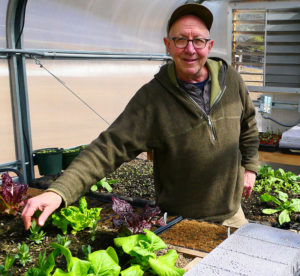 Choke Yukon Grody
Senior Monastic Yukon Grody began practicing at the Monastery in the late 1980s and ordained with Daido Roshi in 1994. Over the years he has served in many roles at the Monastery and Zen Center including cook, bookkeeper and grounds work. Since 2010, Yukon has been the Monastery's head gardener, expanding the footprint of the garden and introducing various permaculture techniques.
Learn more about Choke Yukon Grody