Green Bodhisattva Poetry
with Margaret Gibson
August 6, 2020
In this workshop we'll explore how the practice of poetry can open up a Bodhisattva way of being with the planet: acknowledging the undeniable new fact of life: climate crisis. We will explore how the practice of poetry can assist in keeping our minds and hearts focused and open, our power of attention awake and intimate, writing poems that demonstrate interdependence: the understanding that no one thing exists by itself. This Zoom workshop will allow for discussion and for time to begin writing a poem.
6:30pm – 8:00pm
Your registration confirmation will include a link to the Zoom session.
Donations are appreciated to help support our efforts during this time.
Teacher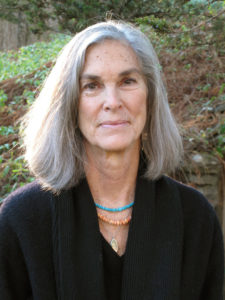 Margaret Gibson
Margaret Gibson is the author of 12 books of poems, most recently Not Hearing the Wood Thrush, which was published in 2018. A poem from that collection, "Passage" appears in The Best Poems of 2017. Her earlier book, Broken Cup (2014), was a finalist for the 2016 Poet's Prize while the title poem won a Pushcart Prize for that year. In 2019 she was named Poet Laureate of the State of Connecticut. "Margaret Gibson has created a voice and an art that connect the sensuous experience of the physical world with the inner life," —Pattiann Rogers. Nationally and internationally acclaimed, Margaret Gibson's poetry is characterized by an uncommon diversity.  The voice may be predominantly lyrical and meditative, and yet there are award-winning, book-length narratives in which she fully inhabits the consciousness of her personae.  Hers is "a finely crafted lyricism and attention to detail rare among poets today," wrote Brian Henry.  Gibson herself has said, "Writing poetry is an act of attention and receptivity.  You study whatever it is that strikes your attention—whether a scarlet tanager, river, field, or forest, whether mother, daughter, alcoholic, photographer, lover. You take what's given into that part of the self that inquires, tests, embraces,…
Learn more about Margaret Gibson