The Three Marks of Existence: Buddha's Teaching for Seeing Things as They Are
with Mn. Shoan Ankele
August 13, 2020
The Three Marks (impermanence, suffering, and no-self—sometimes taught as the Four Marks with the addition of nirvana) offer us a clear view of reality so we can liberate our delusion and live in peace. In a sense, all of Buddhist practice can be said to be a deepening understanding of these marks, moving from a more philosophical appreciation of them to a fully realized, deeply embodied experience. In this seminar, we'll draw on commentaries by contemporary teachers, our own personal reflection, and small group discussion to explore how we can use the marks as part of our daily practice.
6:30pm – 8:00pm
Your registration confirmation will include a link to the Zoom session.
Donations are appreciated to help support our efforts during this time.
Teacher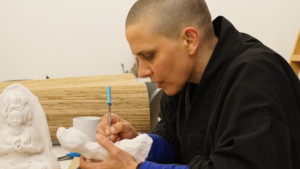 Mn. Shoan Ankele
Danica Shoan Ankele is a Senior Monastic in the Mountains and Rivers Order. She has been in full time residential training since 2007 and ordained with Shugen Roshi in 2014. Shoan is the Monastery's Creative Director and Training Coordinator, and is also involved in the Monastery's Tenkozan line of ZMM-made products, including statues and cloth items dyed with plants cultivated on the Monastery grounds.
Learn more about Mn. Shoan Ankele