Ecodharma: A New Buddhist Path?
with David Loy
September 3, 2020
Celebrated author, teacher and Buddhist philosopher David Loy applies the term ecosattva to the growing movement connecting dharma teachings to environmental activism. His 2019 book Ecodharma explicitly draws attention to the inherent questions prompted by this endeavor. Primarily, does Buddhism offer any special perspective on the ecological crisis?
Our ecological emergency is not something the Buddha or Zen masters talked about, but their teachings have important implications for how we understand and respond to the greatest challenge that humanity has ever faced.
The retreat will focus on three aspects of the eco-crisis: the importance of reconnecting with the natural world; the parallels between our usual individual predicament and our present collective predicament; and the ecosattva path.
Many people have suggested that the ecological crisis is as much a spiritual challenge as a technological and economic one. Does this mean that there is also a parallel between the two solutions? Does the Buddhist response to our personal predicament also point the way to resolving our collective one?
6:30pm – 8:30pm
Your registration confirmation will include a link to the Zoom session.
Donations are appreciated to help support our efforts during this time.
Photo by Manuel Cosentino (Ninnaji Temple Goju-no-tou Tower, Kyōto-shi, Japan)
Teacher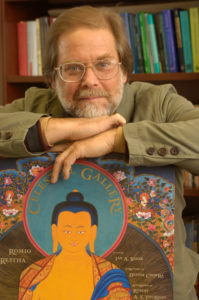 David Loy
David R. Loy, PhD, is a professor of Buddhist and comparative philosophy, a prolific writer, and a teacher in the Sanbo Zen tradition of Japanese Buddhism. His books include Money Sex War Karma, A New Buddhist Path, and most recently Ecodharma: Buddhist Teachings for the Ecological Crisis. He is especially concerned about social and ecological issues. In addition to offering workshops and meditation retreats, he is one of the founders of the new Rocky Mountain Ecodharma Retreat Center, near Boulder, Colorado. To learn more about David Loy please visit his website: http://www.davidloy.org/
Learn more about David Loy