The Night is Young — an Evening of Zazen
with Jody Hojin Kimmel, Sensei
September 18, 2020
Join us for this quiet evening sit while the day is done and the night is young.
Come for the full time or join in when you are able to. It will be simply sitting, some chanting and
a dedication to the peace of this world and the harmony of all beings.
The evening will close with a check-in.
6:00pm – 9:00pm
Your registration confirmation will include a link to the Zoom session.
Donations are appreciated to help support our efforts during this time.
Teacher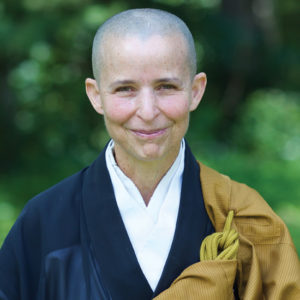 Jody Hojin Kimmel, Sensei
A Zen priest, Jody Hojin Kimmel, Sensei received transmission of the Precepts from Daido Roshi, who began the process in 2009, and from Shugen Roshi, who completed the transmission in 2012. In 2017, she received full dharma transmission from Shugen Roshi. She currently serves as MRO Director of Training and co-Director of the Zen Center of NYC. Before entering the Monastery in 1990, Hojin Sensei studied fine art and trained under legendary ceramicist Toshiku Takaezu, among others. Over the years she has taught drawing, ceramics, and painting, and continues to teach on the creative process within the Mountains and Rivers Order.
Learn more about Jody Hojin Kimmel, Sensei