Ango Intensive: To Benefit Others—The Practice of a Bodhisattva
with Geoffrey Shugen Arnold, Roshi
November 6 - 7, 2020
Now that I have this great ship, a precious human life, so hard to obtain,
I must carry myself and others across the ocean of samsara.
To that end, to listen, reflect, and meditate day and night without distraction,
Is the practice of a bodhisattva.
                                                              -Ngulchu Thogme
To "carry myself and others across the ocean of samsara" is the great vow of the Bodhisattva: one who is on the path of Liberation for oneself and all beings. What better time to study the Bodhisattva Path then when we are in the midst of a global pandemic; a spiritual mandate to address our 400 hundred years of oppression of Black, Indigenous and People of Color; and a historically significant national election.
The Buddha realized that all human suffering is the creation of human beings, and so through practice and enlightenment we can free ourselves and others from greed, anger, delusion, fear and confusion. The Bodhisattva—an enlightened being—freely gives themself to the Path of liberation to be of benefit in this world.
In this Intensive, we will concentrate on passages from The Thirty-Seven Verses on the Practice of a Bodhisattva, as taught by the 14th century Dharma Master Ngulchu Thogme. This powerful teaching points to the essential elements, challenges and practices for each of us aspiring to awaken great wisdom and compassion in this lifetime. Through talks and discussions we'll explore these teachings with a particular focus on the profound depth of mind training as taught in Buddhism and how we can bring this forth into our everyday practice, particularly at this time and place in history.
Wherever we may find ourselves as we face our world, however resolved or limited we may feel, we each carry the great bodhisattva's heart of boundless compassion. In this retreat, we will come together to touch that heart and to strengthen our intention to be of service to all creatures.
In short, wherever I am, whatever I do,
To be continually mindful and alert,
Asking, "What is the state of my mind?"
And accomplishing the good of others is the practice of a bodhisattva.
10am – 12:30pm and 2-4pm both days.
Your registration confirmation will include a link to the Zoom session.
Donations are appreciated to help support our efforts during this time.
Teacher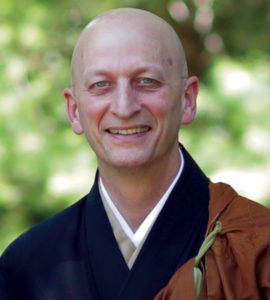 Geoffrey Shugen Arnold, Roshi
Geoffrey Shugen Arnold, Roshi is the Head of the Mountains and Rivers Order, abbot and resident teacher of Zen Mountain Monastery, and abbot of the Zen Center of New York City. Shugen entered full-time residential training in 1986 after studying mathematics and receiving a degree in classical music. He received dharma transmission from John Daido Loori, Roshi in 1997. His teachings on Zen, social justice and environmental stewardship have appeared in various Buddhist journals, and The Best Buddhist Writing 2009 (Shambhala Publications). His book of poetry, O, Beautiful End, a collection of Zen memorial poems, was published in 2012.
Learn more about Geoffrey Shugen Arnold, Roshi