In Touch with Bodhisattvas: A Weekly Art Practice Series – Nov & Dec
with Jody Hojin Kimmel, Sensei
November 5 - December 18, 2020
For art practice during these three months we will focus on learning, reflecting, embodying and embracing the qualities of Bodhisattvas and then bringing to life in expression the energy that we receive.  In this way, we can call in these qualities as we face our lives and what we may encounter.  
Art practice sessions will take place on Zoom each week where the Bodhisattva will be introduced before we enter into expressive work.  
**EXTENDED INTO DECEMBER** 10:30am-12pm. November 27th, December 4th, 11th & 18th
Participate in the series or come for one or more session. Drop-ins welcome; not necessary to be part of all sessions.
Your registration confirmation will include a link to the Zoom session.
Donations are appreciated at this time. 
Teacher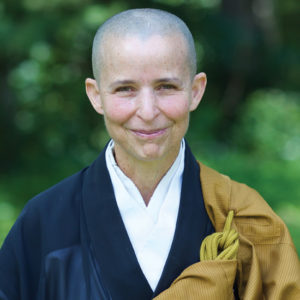 Jody Hojin Kimmel, Sensei
Jody Hojin Kimmel, Sensei received the priestly transmission (the transmission of the Precepts) from Daido Roshi, who began the process in 2009, and from Shugen Roshi, who completed the transmission in 2012. In 2017, she received full dharma transmission from Shugen Roshi. She serves as the Training Director for the Mountains and Rivers Order and Abbot of the Zen Center of NYC-Fire Lotus Temple . Hojin Sensei began her artistic career early and has taught drawing, ceramics, and painting, opening people up to the wonders and mysteries of the creative process and continues to offer Art Practices as part of her teaching. She has been in full-time residential training at the Monastery since 1990 and now shares her time at the Brooklyn temple.
Learn more about Jody Hojin Kimmel, Sensei