The Still Point: Part 2
with Mn. Gokan Bonebakker
September 17, 2020
"We seem to have lost the ability to just be quiet, to simply be present in the stillness that is the foundation of our lives. Yet if we never get in touch with that stillness, we never fully experience our lives."  —Daido Roshi
The Buddha realized enlightenment while practicing seated meditation. This practice is the heart of Zen training. Zazen is simple, easy to describe and understand, and also incredibly profound. It's a practice that deepens and develops over time. While we may be drawn to zazen for the immediate benefit of learning to calm our restless and distracted minds, zazen is a path to liberation. Once we receive beginning instruction and commit to a sitting practice, how do we practice so that our zazen deepens and ripens?
This evening seminar offers the chance to develop your relationship to zazen. We'll look in particular at working with difficult or persistent thoughts; posture and working with the body; and common hindrances such as sleep, pain, and boredom. We'll also look at some ancient and contemporary teachings on mindfulness meditation. There will be plenty of time for questions and sharing.
6:30pm – 8:00pm
Participation in the previous seminar is not required.
Donations are appreciated to help support our efforts during this time.
Teacher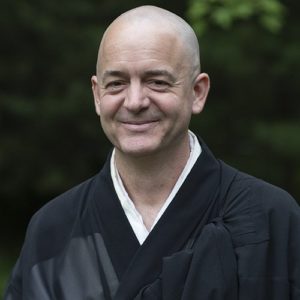 Mn. Gokan Bonebakker
Bear Gokan Bonebakker first came to the Monastery in 1994, and has been in residence since 2007. He was ordained in 2014. Gokan is the Operations Director, helps coordinate the National Buddhist Prison Sangha, and works in the orchard.
Learn more about Mn. Gokan Bonebakker