Perfect and Complete? Self-Acceptance and Working With the Critical Mind
with Mn. Gokan Bonebakker
December 3, 2020
Daido Roshi would say over and over again, "Each of you is perfect and complete, lacking nothing, just as you are." But for many of us there is another persistent voice continually pointing out our faults, undermining our confidence and clouding our view. Self-doubt and self-criticism can be a significant source of suffering and a barrier to practice. In this seminar we will examine this self-critical mind and look at how the Buddhist teachings, and Zen practice, can help us find freedom and renewed self-acceptance. Please bring a pen and paper for writing as well as a piece of blank, unlined paper.
6:30pm – 8:00pm
Donations are appreciated to help support our efforts during this time.
Teacher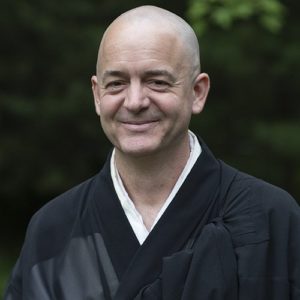 Mn. Gokan Bonebakker
Bear Gokan Bonebakker first came to the Monastery in 1994, and has been in residence since 2007. He was ordained in 2014. Gokan is the Operations Director, helps coordinate the National Buddhist Prison Sangha, and works in the orchard.
Learn more about Mn. Gokan Bonebakker