All Together Now—Art Viewing & Tea: The Power of Art Practice Collaboration
with Jody Hojin Kimmel, Sensei
December 4, 2020
We found ourselves this year—in an explosion of uncertainties and rapid changes— remembering our ancestors from the past and how they responded when events like these happened. Far from being driven into despair, they entered deeply into the creative process as a way to meet all that was welling up inside. They put their feelings, their anxiety and their grief to good use, alchemizing and expressing the sublime beauty, connections and vital aliveness they experienced, all while witnessing the ever-present condition of death. These works from the past changed us, and inspire us now to fully use our gifts of being human.
Our first online art-making gathering was March 2020 at the beginning of quarantine, meeting each week from our home bases. Beginning with zazen and a focusing discussion with prompts, participants then turned to their creative outpourings. Being in our own spaces day after day, what seemed familiar became unfamiliar with a startling presence. Deep noticing and questioning came to mind. Many more participants have joined since then, and we continue together to explore the power of expression and natural impulse to create. Dharma practice and the creative process can change us, opening our world and our heart wider than ever.
Bring along a cup of tea and join us for this evening gathering, slideshow and discussion via Zoom. Be prepared to be delighted and inspired by the hands-on expression of many creative beings over the past nine months.
6:30pm – 8pm
Donations are appreciated to help support our efforts during this time.
Teacher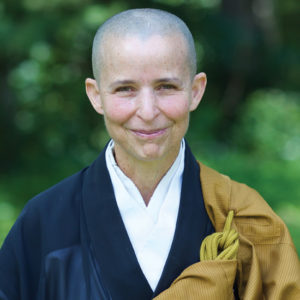 Jody Hojin Kimmel, Sensei
A Zen priest, Jody Hojin Kimmel, Sensei received transmission of the Precepts from Daido Roshi, who began the process in 2009, and from Shugen Roshi, who completed the transmission in 2012. In 2017, she received full dharma transmission from Shugen Roshi. She currently serves as MRO Director of Training and co-Director of the Zen Center of NYC. Before entering the Monastery in 1990, Hojin Sensei studied fine art and trained under legendary ceramicist Toshiku Takaezu, among others. Over the years she has taught drawing, ceramics, and painting, and continues to teach on the creative process within the Mountains and Rivers Order.
Learn more about Jody Hojin Kimmel, Sensei