Undoing Patriarchy and Unveiling the Sacred Masculine: A Retreat for Men (Self-Identified)
with Lama Rod Owens
February 20, 2021
A retreat for those who self-identify as masculine 
Through retreat, meditation, dialogue, sharing and personal storytelling, journaling and ritual, we will together unpack how patriarchy has shaped our expressions of masculinity and the self more generally. We will take up a dharmic lens to examine our relationship to violence and domination, power, femininity, love and sexuality along a path to unveiling and honoring non-patriarchal expressions of who we are as human beings.
Our intention is to illuminate how patriarchal expressions of self create suffering for all of us as we begin to develop a relationship to a more sacred masculinity. Our hope is that these efforts will not only further our own liberation, but begin to cultivate spiritual communities and a human world where both the sacred feminine and masculine are held in loving balance.
Saturday, February 20th from 10am-12:30pm and 2-5pm.
Teacher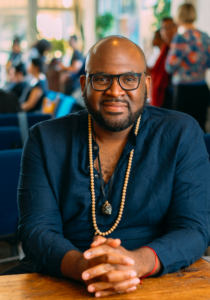 Lama Rod Owens
Lama Rod Owens is considered one of the emerging leaders of his generation of Buddhist teachers. An author, activist, and formally authorized Buddhist teacher in the Tibetan tradition of Buddhism, he is the co-founder of Bhumisparsha, a Buddhist tantric practice community as well as a visiting teacher with several Buddhist centers including the Natural Dharma Fellowship and the Brooklyn Zen Center. A graduate of Harvard Divinity School, Lama Rod has also been a guest faculty member at the Harvard School of Education's program Mindfulness for Educators. He has been a regular guest on SiriusXM's Urban Viewhosted by Pulitzer Prize winning journalist Karen Hunter. He is also a co-author of Radical Dharma: Talking Race, Love, and Liberation and author most recently of Love & Rage, exploring transformative anger. Lama Rod can be reached at www.lamarod.com.
Learn more about Lama Rod Owens