In the Presence of Dying: Compassion and Great Change
with Pema Khandro
January 23, 2021
Facing the realities of dying, death and grief are central to our human experience, yet too often we face these experiences of loss unprepared for such a radical change in our loved ones and in ourselves. We are not given options and the situation cannot be rationalized or covered up by pretense. There is a total rupture in our who-I-am-ness as we are forced to undergo a great and difficult transformation.
Drawing on the profound resources from the bardo teachings, the instructions for dying and death from the Great Perfection (Dzogchen) tradition of Tibet, this workshop will explore these interruptions of our normal sense of certainty. Interweaving teachings on relating with change and loss, understanding buddha-nature, and applying altruistic compassion, we will also explore practical knowledge about death, including stages of letting go of the body and meditation instructions for moments of dying and post-death. Read more on the bardo teachings from Pema Khandro here.
Saturday, January 23rd: 11 am-1 pm and 3 pm-6 pm.
Pema Khandro will also offer the Sunday dharma talk during the Monastery's morning program via Livestream.
Donations are appreciated to help support our efforts during this time.
Teacher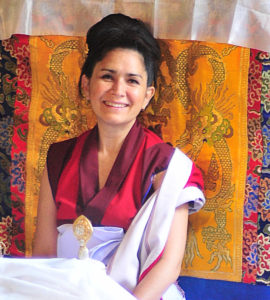 Pema Khandro
Pema Khandro is a scholar and teacher of Tibetan Buddhism. She is the founder of the non-profit organization Ngakpa International and oversees its projects, the Dakini Mountain Retreat Center,  the Buddhist Studies Institute and the Yogic Medicine Institute as well as Ngakpa House, a charity which supports the education of children and elders in the Himalayas. Pema Khandro's academic work specializes in the history of Dzogchen and as well as the culture and literature of non-celibate Tibetan yogis. She has a bachelor's degree in Sociology, a Master's degree specializing in the study of Tibetan Buddhism and is currently completing her Ph.D. in Buddhist Studies at the University of Virginia. She speaks English, Tibetan, Chinese and Spanish languages. Pema Khandro is an authorized Lama and lineage holder of the Nyingma and Kagyu lineages and one of few westerners recognized and enthroned as a tulku, a Buddhist leader who carries on the lineage of a predecessor. She ordained in the Nyingma tradition and was authorized to pass this non-monastic lineage of ordained Buddhist Yogis, also known as naljorpas and ngakpas on to her students, a task which she has been dedicated to since 1999. As a teacher of Vajrayana, she specializes in Dzogchen, a contemplative and philosophical tradition which emphasize cultivating awareness and presence…
Learn more about Pema Khandro