Introduction to Zen Practice Weekend (Online)
with Geoffrey Shugen Arnold, Roshi and Jody Hojin Kimmel, Sensei
April 30 - May 2, 2021
This time calls each of us to bring forth clear understanding and genuine compassion to alleviate the suffering within us and in our world. The Buddha was enlightened to the truth—that we each yearn to be at peace and in harmony—yet we struggle to know how our lives can bring us closer to our deepest aspirations. Buddhist practice is a Path that brings us closer, teaching us profound spiritual practices that any sincere person can engage, wherever we are.
This online version of the Monastery's popular monthly Introduction to Zen Training is an opportunity to engage these time-honored practices and begin a meditation practice at home or strengthen a practice that has already begun. Designed for those new to Zen training, this retreat introduces the Monastery's Eight Gates program, an approach for taking up the whole of our lives as a path of spiritual practice. Led by a training staff of Monastics, Home Practicing Seniors and Teachers, this online immersion experience can work within most living situations, as long as the commitment to engage is there within you.
While the weekend includes talks and plenty of time for questions, the experiential component is what grounds the practice. You will get a chance to immerse yourself in zazen (Zen meditation), liturgy, work practice, moral and ethical teachings (the Precepts), art and body practice, and a one-on-one meeting with a teacher, all from within your home. Together, we'll commit to an intensive schedule from Friday evening through Sunday at noon. The weekend will conclude with a Dharma Discourse (also available as a podcast).
Participants will receive a recommended excerpt from The Eight Gates of Zen and a PDF which includes the ZMM liturgy, a detailed scheduled, and other information for the retreat. You're also encouraged to familiarize yourself with these meditation instructions or attend one of our bi-monthly "Beginning Instruction"  sessions online ahead of time. 
Weekend Schedule
Friday Evening Introductory Sessions
7:00-9:00 pm  Welcome & Introductory Remarks from the Abbot, Shugen Roshi
Beginning Instruction in Zazen with Dharma Teacher, Hojin Sensei
Saturday Morning Sessions
6:30-7:30 am Guided Zazen Meditation 
7:30-9:00 am Breakfast break 
9:00 – 9:45 am Caretaking Practice    *Please have a simple household task you can do during this time
10:00-10:45 am Q&A on Zazen and Work Practice 
11:00-noon  Teaching on Morality, Ethics & Liturgy    
Noon-1:30pm Lunch Break 
Saturday Afternoon Sessions
1:30-2:00pm  "Tea Time"  Check-in and informal discussion with a teacher and/or senior student.  Feel free to bring a cup of tea, if you like.
2:00-3:00pm    Art & Body Practice  Immersion into the "artless arts" of Zen and awakened body practice. *Please bring a pen and some paper.
3:15-4:00pm  Teacher-Student Relationship & Buddhist Study   Includes instructions for face-to-face teachings (private interview with the teacher)/
 4:15 – 5:00pm  Home Practice & Next Steps   Staying connected to practice and next steps to consider.
5:00-7:00 pm   Dinner break 
7:30-9:00pm Saturday Evening Zazen & Meetings with teachers 
Evening Zazen (via Livestream) & Face-to-face teaching
Sunday Morning Session
8:30am   Meet with a Senior Monastic to introduce Sunday service
9:00am – Noon Sunday Morning Program: Liturgy Service, Zazen, Dharma Talk (via Livestream) & face-to-face teaching.
12:10-12:40pm  Retreat Closure
This morning session will continue opportunities to meet with a teacher on Saturday, will include zazen with the Monastery sangha and the world-wide online sangha, and will conclude with a Dharma Discourse by Shugen Roshi, abbot of Zen Mountain Monastery. 
Teachers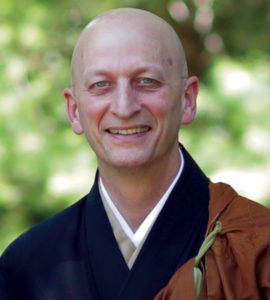 Geoffrey Shugen Arnold, Roshi
Geoffrey Shugen Arnold, Roshi is the Head of the Mountains and Rivers Order, abbot and resident teacher of Zen Mountain Monastery, and abbot of the Zen Center of New York City. Shugen entered full-time residential training in 1986 after studying mathematics and receiving a degree in classical music. He received dharma transmission from John Daido Loori, Roshi in 1997. His teachings on Zen, social justice and environmental stewardship have appeared in various Buddhist journals, and The Best Buddhist Writing 2009 (Shambhala Publications). His book of poetry, O, Beautiful End, a collection of Zen memorial poems, was published in 2012.
Learn more about Geoffrey Shugen Arnold, Roshi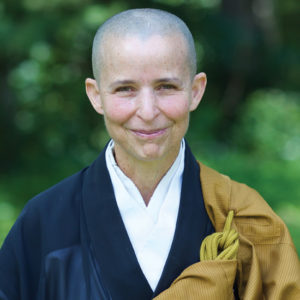 Jody Hojin Kimmel, Sensei
A Zen priest, Jody Hojin Kimmel, Sensei received transmission of the Precepts from Daido Roshi, who began the process in 2009, and from Shugen Roshi, who completed the transmission in 2012. In 2017, she received full dharma transmission from Shugen Roshi. She currently serves as MRO Director of Training and co-Director of the Zen Center of NYC. Before entering the Monastery in 1990, Hojin Sensei studied fine art and trained under legendary ceramicist Toshiku Takaezu, among others. Over the years she has taught drawing, ceramics, and painting, and continues to teach on the creative process within the Mountains and Rivers Order.
Learn more about Jody Hojin Kimmel, Sensei