Winter Art Practice Series: Miraculous Expression
with Jody Hojin Kimmel, Sensei
February 5 - 19, 2021
February: Miracles Unfolding
Each moment, an invitation into the heart of the world is offered through the doors of the senses that pivots with a practice of connecting to the still point, then moving into creation. To study the Buddhas' way is to study the self and to undo the woven web of knowing that constricts our heart and mind,  pressuring us to yield to certain results and to then open into rediscovering the continuous opportunity to release our grasp and contact the complete wonder of our life—of our raw materials—becoming not less, but more, of who we truly are.
If you're new-welcome to this online art practice collaboration, you can start where you are! We'll be working on Zoom, each of us from within our home studio, in whatever medium(s) you would like to explore. Hojin will guide us in zazen and with prompts to spark the creative impulse.
10:30am-12pm on Fridays, February 5th, 12th & 19th.
Participate in the series or come for one or more session. Drop-ins welcome; not necessary to be part of all sessions.
Your registration confirmation will include a link to the Zoom session.
Donations are appreciated at this time. 
Teacher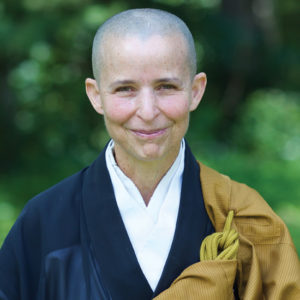 Jody Hojin Kimmel, Sensei
A Zen priest, Jody Hojin Kimmel, Sensei received transmission of the Precepts from Daido Roshi, who began the process in 2009, and from Shugen Roshi, who completed the transmission in 2012. In 2017, she received full dharma transmission from Shugen Roshi. She currently serves as MRO Director of Training and co-Director of the Zen Center of NYC. Before entering the Monastery in 1990, Hojin Sensei studied fine art and trained under legendary ceramicist Toshiku Takaezu, among others. Over the years she has taught drawing, ceramics, and painting, and continues to teach on the creative process within the Mountains and Rivers Order.
Learn more about Jody Hojin Kimmel, Sensei