The Artless Arts of Zen
with Jody Hojin Kimmel, Sensei
February 11, 2021
An aesthetic thread runs through all the Zen arts, from the gentle art of flower arranging to the warrior arts of the bow or sword. Art historian, Shinichi Hisamatsu, in his classic work Zen and the Fine Arts, was the first to write formally of seven primary characteristics of the Zen aesthetic: no rule, no complexity, no rank, no mind, no bottom, no hindrance, no stirring.
In this evening program we'll take a visual tour of the qualities of the Zen aesthetic and their ability to unlock our powers of direct perception. We'll contemplate images to see how Zen masters applied their insight—to painting, calligraphy, ceramics, and poetry—to inspire, awaken and delight those who choose to look. To paraphrase Alan Watts, Zen Art is the "art of artlessness, the art of controlled accident."
Thursday, February 11th 6:30-8pm
Donations are appreciated to help support our efforts during this time.
Teacher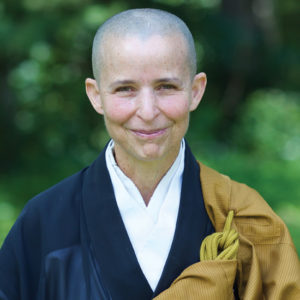 Jody Hojin Kimmel, Sensei
A Zen priest, Jody Hojin Kimmel, Sensei received transmission of the Precepts from Daido Roshi, who began the process in 2009, and from Shugen Roshi, who completed the transmission in 2012. In 2017, she received full dharma transmission from Shugen Roshi. She currently serves as MRO Director of Training and co-Director of the Zen Center of NYC. Before entering the Monastery in 1990, Hojin Sensei studied fine art and trained under legendary ceramicist Toshiku Takaezu, among others. Over the years she has taught drawing, ceramics, and painting, and continues to teach on the creative process within the Mountains and Rivers Order.
Learn more about Jody Hojin Kimmel, Sensei