ZCNYC Sangha Meeting: Noble Path Talk & Paramita Study
with Jody Hojin Kimmel, Sensei
January 21, 2021
For ZCNYC Sangha Members:
Please join us for the upcoming Temple Sangha Meeting. Beginning with zazen, we'll then listen to the sixth Noble Path Talk given by Yunen Kelly followed by continued exploration of the Paramitas with a discussion on the next paramita, Meditation, led by Hojin Sensei.
The teachings of the Six Paramitas are the qualities of mind of the Bodhisattva, the enlightened being who helps bring others to the other shore of liberation. Paramitas are a great resource for us on our path, and especially now.
Upon registration, you will receive an email with two PDF documents- offered by Dilgo Khyentse, a Tibetan teacher and another by Master Sheng Yen a Chan teacher. Please read these teachings and come prepared for our study time together.
Every participant is encouraged to find texts and study materials on your own as it will help broaden our conversations. This self-guided exploration is a very important aspect of learning to study the Dharma teachings, make the quest and our questions personal. In this way we can engage the teachings and deepen our understanding.
Participation in previous meetings is not required.
A few notable Book Resources
The Bodhisattva Path of Wisdom and Compassion (volume 2), By Chogyam Trungpa
The Way of the Bodhisattva  by Alan Wallace.  Shäntideva's classic and highly readable text on the Bodhisattva path is in essence an exploration of putting the paramitas into practice
No Time to Lose by Pema Chodron
Practice of Perfection by Aiken Roshi
Entering the Buddha Mind by Reb Anderson
Deep Hope by Diane Eshin Rizzetto
Your registration confirmation will include a link to the Zoom session.
Teacher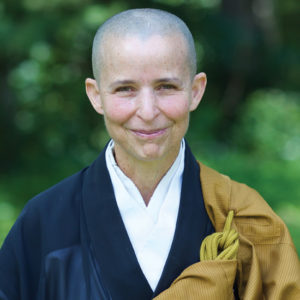 Jody Hojin Kimmel, Sensei
A Zen priest, Jody Hojin Kimmel, Sensei received transmission of the Precepts from Daido Roshi, who began the process in 2009, and from Shugen Roshi, who completed the transmission in 2012. In 2017, she received full dharma transmission from Shugen Roshi. She currently serves as MRO Director of Training and co-Director of the Zen Center of NYC. Before entering the Monastery in 1990, Hojin Sensei studied fine art and trained under legendary ceramicist Toshiku Takaezu, among others. Over the years she has taught drawing, ceramics, and painting, and continues to teach on the creative process within the Mountains and Rivers Order.
Learn more about Jody Hojin Kimmel, Sensei