Precepts II: Entering the Way of Compassion
with Geoffrey Shugen Arnold, Roshi
February 13, 2021
The vow of the Bodhisattva is to alleviate suffering and give selflessly for the benefit of all beings—to live with compassion. According to Buddhist teachings, each of us is naturally endowed with compassion. So why do generosity, kindness and skillfulness so often seem out of our reach? How does our self-clinging hinder our natural desire and capacity to be genuinely concerned for others? 
This second-level retreat is part of the Mountains and Rivers Order training program for receiving the Buddhist precepts, yet it is open to all who are interested in practicing the Dharma. In this retreat, we will examine and discuss bodhicitta—the great aspiration to liberate self and other—and its important role in generating compassion.
By exploring the issues that challenge us the most, we'll see how we can bring compassionate action into our daily practice, both spontaneously and intentionally.
Saturday, February 13th: 10am-12:30pm & 2-3:30pm
Teacher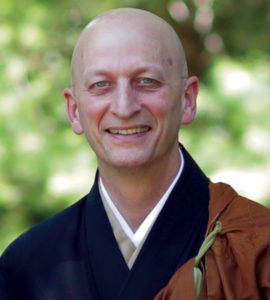 Geoffrey Shugen Arnold, Roshi
Geoffrey Shugen Arnold, Roshi is the Head of the Mountains and Rivers Order, abbot and resident teacher of Zen Mountain Monastery, and abbot of the Zen Center of New York City. Shugen entered full-time residential training in 1986 after studying mathematics and receiving a degree in classical music. He received dharma transmission from John Daido Loori, Roshi in 1997. His teachings on Zen, social justice and environmental stewardship have appeared in various Buddhist journals, and The Best Buddhist Writing 2009 (Shambhala Publications). His book of poetry, O, Beautiful End, a collection of Zen memorial poems, was published in 2012.
Learn more about Geoffrey Shugen Arnold, Roshi