Inspired Words: Poems of the Wise Women of Early Buddhism
with Jody Hojin Kimmel, Sensei
February 20, 2021
Open to those who self-identify as women and want to be in a woman-centered space.
The Therigatha are a collection of poems by the first Buddhist women ordained at the time of the Buddha. Theri means "women who have grown old in knowledge" and gatha means "verse or song." These poems are called udanas, inspired utterances which express the joy of realizing freedom from suffering. 
Together we will explore one of the Therigatha poems of Ambapali, whose name means "mango protectress." She was reported to be astonishingly beautiful and had princes fighting for her favor, eventually having a son with King Bimbisara. While she had a life of fame and fortune, she heard the Buddha speak and afterwards decided to become a renunciate. Her poem brings the image of impermanence into focus, and the contrast between former beauty and the radical changes of old age, and she is humorous too!
We will take a look at Ambapali's practice and awakening through different translations. Feeling our way into the lived experience of this female ancestor, we may also touch how her realization is also able to deeply affect how we see ourselves.
Saturday, February 20th 10am-noon. 
Donations are appreciated at this time. 
Teacher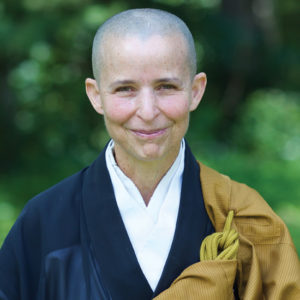 Jody Hojin Kimmel, Sensei
A Zen priest, Jody Hojin Kimmel, Sensei received transmission of the Precepts from Daido Roshi, who began the process in 2009, and from Shugen Roshi, who completed the transmission in 2012. In 2017, she received full dharma transmission from Shugen Roshi. She currently serves as MRO Director of Training and co-Director of the Zen Center of NYC. Before entering the Monastery in 1990, Hojin Sensei studied fine art and trained under legendary ceramicist Toshiku Takaezu, among others. Over the years she has taught drawing, ceramics, and painting, and continues to teach on the creative process within the Mountains and Rivers Order.
Learn more about Jody Hojin Kimmel, Sensei