The Undivided Life
with Mn. Gokan Bonebakker
January 22, 2021
What we frequently dwell upon becomes the shape of our mind. – Buddha
It matters how we use our mind. As we go about our lives, moving through our days, what are we creating? What are we perpetuating? The direct pointing of zazen makes it easier for us to see our mind, but Zen encourages us to bring our awareness into all areas of our life. How do we do this? How can we learn to live out of intention rather than out of habit?
In this seminar we'll explore teachings and practices that can help us with the great challenge of living an integrated, undivided life.
6:30pm – 8:00pm
Donations are appreciated to help support our efforts during this time.
Teacher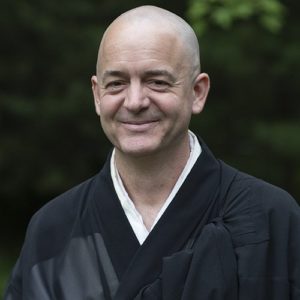 Mn. Gokan Bonebakker
Bear Gokan Bonebakker first came to the Monastery in 1994, and has been in residence since 2007. He was ordained in 2014. Gokan is the Operations Director, helps coordinate the National Buddhist Prison Sangha, and works in the orchard.
Learn more about Mn. Gokan Bonebakker