Half-Day Sit
with Jody Hojin Kimmel, Sensei
March 13, 2021
A three hour practice of connecting with the still point by letting our body- mind and heart take refuge. Let us sit deep into our well and show up from a place of love and courage– the two things that throughout history have been shown are necessary in order to help humanity not only survive, but thrive.
Please join us for as long as you are able to.  The session will end with a closing check-in.
9:00am – 12:00pm
Your registration confirmation will include a link to the Zoom session.
Donations are appreciated to help support our efforts during this time.
Teacher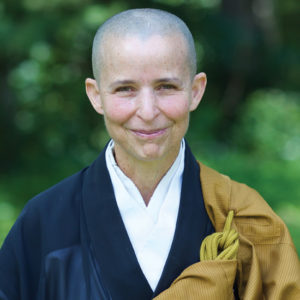 Jody Hojin Kimmel, Sensei
A Zen priest, Jody Hojin Kimmel, Sensei received transmission of the Precepts from Daido Roshi, who began the process in 2009, and from Shugen Roshi, who completed the transmission in 2012. In 2017, she received full dharma transmission from Shugen Roshi. She currently serves as MRO Director of Training and co-Director of the Zen Center of NYC. Before entering the Monastery in 1990, Hojin Sensei studied fine art and trained under legendary ceramicist Toshiku Takaezu, among others. Over the years she has taught drawing, ceramics, and painting, and continues to teach on the creative process within the Mountains and Rivers Order.
Learn more about Jody Hojin Kimmel, Sensei