Touching the Sacred: Liturgy for Home Practitioners
with Geoffrey Shugen Arnold, Roshi
April 3, 2021
The Buddhist Path has been expressed as ceasing from all harm; doing all that is good; training the mind. In traditional practice, as well as the practice of everyday life, we are always within the body and mind of the Buddha, our enlightened nature. When we don't see this clearly, we experience insufficiency – spiritual impoverishment – both inwardly and in our world. We then try to satisfy our natural desire for aliveness and intimacy by pursuing passing pleasures. Ultimately, this leads to disappointment, and the cycle begins again. It is this very cycle – samsara – that we are freeing ourselves from through the many forms of Buddhist practice.
In this retreat, we examine this through some of the profound, varied and important practices that we generally describe as liturgy – chanting, invocations, prostrations, etc – but which more rightly should be understood as the mystical realist's practice of training the mind.
The retreat combines talks, discussions, and practical training. We'll draw from Daido Roshi's Celebrating Everyday Life, a book written to assist lay practitioners in developing an appreciation of liturgy and its role in home practice. We'll examine the elements, function, and teaching of the altar; the underlying structure of a service; invocation and the practice of chanting with the whole body and mind; liturgy as an expression of gratitude; and the role of liturgy in the wider context of Zen spiritual practice. We'll also explore a range of specific liturgies and related practices—their function in and relevance to specific circumstances that arise in one's home practice and family life. The purpose of this retreat is to help us understand, appreciate and enter more deeply into the profoundly intimate practice of liturgy; as Daido Roshi describes it, "Making visible the invisible."
Please don't let financial issues prevent you from attending a program at the Monastery. If you can't afford the program fee, there are options.
Teacher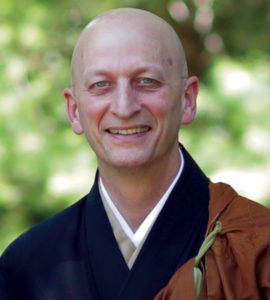 Geoffrey Shugen Arnold, Roshi
Geoffrey Shugen Arnold, Roshi is the Head of the Mountains and Rivers Order, abbot and resident teacher of Zen Mountain Monastery, and abbot of the Zen Center of New York City. Shugen entered full-time residential training in 1986 after studying mathematics and receiving a degree in classical music. He received dharma transmission from John Daido Loori, Roshi in 1997. His teachings on Zen, social justice and environmental stewardship have appeared in various Buddhist journals, and The Best Buddhist Writing 2009 (Shambhala Publications). His book of poetry, O, Beautiful End, a collection of Zen memorial poems, was published in 2012.
Learn more about Geoffrey Shugen Arnold, Roshi