Ango Intensive: At Ease Within Non-Perfection—Teachings of the "Faith Mind" Poem
with Geoffrey Shugen Arnold, Roshi
May 14 - 15, 2021
One thing, all things: move among them and intermingle, without distinction.
To live in this realization is to be without anxiety about nonperfection.
The Faith in Mind (Hsin-hsin-ming) attributed to the 6th century Chan Master Jianzhi Sengcan, is one of the most enduring teachings in the literature of Zen Buddhism. Known for its beauty and insight it has been a favored teaching by many of the great past Zen Masters. 
The poem can be studied and engaged both on the level of practice instruction as well as direct pointing to the essential nature of reality. The poem speaks to the natural perfection of our awareness and basic nature, and how we can begin to discover this by freeing ourselves from habitual discriminating thoughts and ideas. This is presented from various perspectives to help bring out how pervasive our judging mind is, and thus, how profound the transformation is when we're liberated from such conditioned patterns. Through its accessible and subtle teaching, the question is presented again and again: How are we to live in this vast, changing and complex world, care deeply for it, act freely within it, without attachments?
In this two-day retreat, we will examine and practice this teaching through the teachings of the Two Truths and Master Dongshan's Five Ranks of Relative and Absolute through  chanting practice, teachings and discussions, and individual and small group work.
10am – 12:30pm and 2-4pm both days.
Your registration confirmation will include a link to the Zoom session.
Donations are appreciated to help support our efforts during this time.
Teacher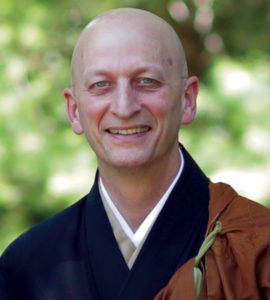 Geoffrey Shugen Arnold, Roshi
Geoffrey Shugen Arnold, Roshi is the Head of the Mountains and Rivers Order, abbot and resident teacher of Zen Mountain Monastery, and abbot of the Zen Center of New York City. Shugen entered full-time residential training in 1986 after studying mathematics and receiving a degree in classical music. He received dharma transmission from John Daido Loori, Roshi in 1997. His teachings on Zen, social justice and environmental stewardship have appeared in various Buddhist journals, and The Best Buddhist Writing 2009 (Shambhala Publications). His book of poetry, O, Beautiful End, a collection of Zen memorial poems, was published in 2012.
Learn more about Geoffrey Shugen Arnold, Roshi