Jizo Bodhisattva's Endless Vow
with Jan Chozen Bays, Roshi and Jody Hojin Kimmel, Sensei
April 17, 2021
We are delighted to welcome back Chozen Roshi for this retreat, coinciding with the completion of the new Jizo House on the Monastery grounds.
A bodhisattva is a spiritual pilgrim who dedicates their life to helping free others from the suffering caused by fear and ignorance, and to helping them see their own wise and courageous enlightened nature. Jizo Bodhisattva is the most beloved bodhisattva, known in China as Dicang and in Japan as Jizo. Originally known in India as Kshitigarbha (or "Womb of the Earth"), Jizo is the special protector of anyone who needs extra help along their life path.
Jizo's qualities are inspiring: warm benevolence toward all living beings, great determination to help end their suffering, unflagging optimism that this is possible, fearlessness along the Way, and a vow without end. Jizo can be found in any place or situation, providing a sense of direction and is especially concerned with taking care of those who are vulnerable.  Women, children, those who have died, pilgrims journeying in physical or spiritual realms all benefit from Jizo's guidance and protection.
Kshitigarbha, or Earth Womb Bodhisattva, is Jizo as the protector of all that is born from and returns to the earth. As spring arrives all around us, we rejoice in the eternal regeneration of life on this planet and renew our vows to protect our Earth home and all creatures who dwell above, upon and within its huge body.
In this retreat we will investigate Jizo's path from India to the west, legends about Jizo's powers, and Jizo's endless vow. We will each create a simple Jizo image from clay, learn to chant the Jizo mantra, and will conclude the day with a Kshitigarbha Ceremony.
Art supplies: For this retreat please have on hand some self-hardening clay such as Sculpey, Crayola Air Dry Clay, Polyform Model Air, or others. A small amount should be easy to find anywhere art and craft supplies are sold, or online.
Teachers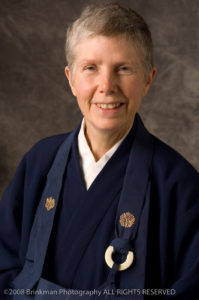 Jan Chozen Bays, Roshi
Jan Chozen Bays, Roshi has been the teacher for the Zen Community of Oregon since 1985. In 2002 she helped to found Great Vow Zen Monastery where she is the co-abbot, and in 2011 she also helped found Heart of Wisdom Zen Temple in Portland, Oregon. Chozen Roshi has studied and practiced Zen Buddhism since 1973. She received Jukai (lay precepts) in 1975 and priest's ordination in 1979 from Taizan Maezumi, Roshi. From 1978 to 1983 she lived at the Zen Center of Los Angeles, studying with Maezumi Roshi and directing the Zen Center's non-profit Medical Clinic. She finished formal koan study in 1983 and was given Dharma transmission (authorization to teach) that same year. An author of many articles about Zen in the periodicals Tricycle and Buddhadharma, her first book, Jizo Bodhisattva, Modern Healing and Traditional Buddhist Practice (Tuttle, 2002), has been re-issued in paperback as Bodhisattva, Guardian of Children, Women and Other Voyagers (Shambhala). She is the author of How to Train a Wild Elephant: And Other Adventures in Mindfulness (Shambhala, 2011), and Mindful Eating: A Guide to Rediscovering a Healthy and Joyful Relationship with Food (Shambala, 2011). Chozen Roshi is also a pediatrician and world-renowned child abuse consultant,…
Learn more about Jan Chozen Bays, Roshi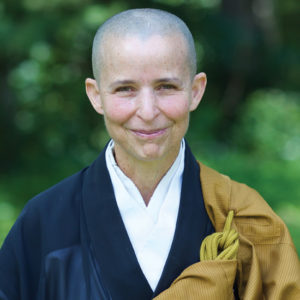 Jody Hojin Kimmel, Sensei
A Zen priest, Jody Hojin Kimmel, Sensei received transmission of the Precepts from Daido Roshi, who began the process in 2009, and from Shugen Roshi, who completed the transmission in 2012. In 2017, she received full dharma transmission from Shugen Roshi. She currently serves as MRO Director of Training and co-Director of the Zen Center of NYC. Before entering the Monastery in 1990, Hojin Sensei studied fine art and trained under legendary ceramicist Toshiku Takaezu, among others. Over the years she has taught drawing, ceramics, and painting, and continues to teach on the creative process within the Mountains and Rivers Order.
Learn more about Jody Hojin Kimmel, Sensei