Affirming Faith
with Ron Hogen Green, Sensei
April 9, 2021
What is the relationship between faith, affirmation of faith, and our practice? Is faith a necessary component for practice? Is affirmation something else entirely?
The Faith Mind Poem says:
The Great Way is not difficult
for those who have no preferences.
Yet of course we do have preferences. But are they trustworthy?
How can we trust—having faith in oneself, in practice, in sangha—while in the midst of difficulty and sorrow? In the world of opinions and distinctions, what can we have faith in that is trustworthy and reliable? What is it that our life can rest upon?
Sorrow and suffering are inevitable in any human life, even a happy one. We don't like to dwell on this but none of us can avoid sickness, old age and death. Yet how we live in the midst of these—as well as the joys and subtle pleasures of our life—rests of our faith. Affirming our faith in practice may help us see that our Buddha nature is ultimately not different then our ordinary minds, and yet is our true mind.
This evening retreat will explore faith—great faith, small faith, the relationship of Faith to questions and doubt—and a cultivation of a personal commitment and devotion to practice. We will explore the importance of questioning as well, and helpful and unhelpful ways to question as an important element of sincere practice.
6:30pm – 8:30pm
Your registration confirmation will include a link to the Zoom session.
Donations are appreciated to help support our efforts during this time.
Teacher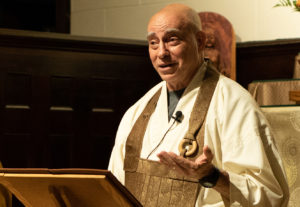 Ron Hogen Green, Sensei
Hogen Sensei has been engaged in formal Zen practice since 1978, and was in residential training at the Monastery for twelve years before returning to lay life in 2007. He shares his time between the Zen Center of NYC and rural Pennsylvania, where he lives with his family. Hogen received dharma transmission from Shugen Roshi in 2016.
Learn more about Ron Hogen Green, Sensei