Essentials of Zen – Attachments and the Path of Liberation
with Mn. Gokan Bonebakker
May 7, 2021
In this session we will explore the Four Noble Truths, the Buddha's first teaching following his own enlightenment. These describe the cycle of human-created suffering, its basis in our attachment to desires, and how to find true freedom through a spiritual path that embraces all aspects of our everyday lives. The Four Noble Truths are among the most important principles in Buddhism, and yet their basic teachings can be easily misunderstood.
We will begin with the teaching of dukkha—the fundamental nature of our deep dissatisfaction. We will explore the realm of our desires and attachments, and work towards a correct understanding of non-attachment, which does not lead to a lack of concern or caring, but rather to unhindered compassion and love. We will also clarify what is meant by the emptiness of the self as realized through Buddhist practice and the Eightfold Path as the journey to awakening. This retreat will help demonstrate how these important teachings can guide and inspire our practice of the Way and have a powerful effect on our relationships, work and service to others.
The Essentials of Zen seminars offer an opportunity to work more informally with some of the MRO seniors and teachers. They are particularly geared towards those newer to practice, but are open to all practitioners. There will be plenty of time for questions and conversation.
Teacher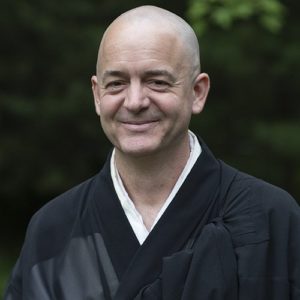 Mn. Gokan Bonebakker
Bear Gokan Bonebakker first came to the Monastery in 1994, and has been in residence since 2007. He was ordained in 2014. Gokan is the Operations Director, helps coordinate the National Buddhist Prison Sangha, and works in the orchard.
Learn more about Mn. Gokan Bonebakker