Dōgen's Chinese Poems
with Shohaku Okumura, Roshi
July 16 - 17, 2021
The ocean waves crash like thunder below the cliff.
I strain my ears and see the face of Kanjizai.
Upholding this, who could measure the ocean of merit?
Just turn your eyes and see the blue mountain.
Dōgen Zenji, the 13th century Japanese monk who founded the Sōtō school of Zen Buddhism in Japan is well-known for his religious and philosophical masterwork, the Shōbōgenzō. It is less well-known that Dōgen was a poet, accomplished both in Japanese and Chinese poetics. Dōgen composed over 400 poems in Chinese throughout his lifetime of teaching, and used his poetry to express his insights into the Dharma.
We are delighted to welcome renowned translator, scholar and Zen Master Okumura Roshi to lead this two-day retreat delving into Dōgen's Chinese poems, some of his other writings, and related topics which are brought forward in the spirit of the arts in Zen, to embody and transmit the dharma. Okumura Rōshi will provide his insights into the historical background and into the texts, Buddhist and otherwise, referenced in these poems.
Long planned before Covid, we are offering this retreat via Zoom and feel fortunate to be able to spend this time together with Okumura Roshi. He will also offer the dharma talk on Sunday for Zen Mountain Monastery.
The verse above recounts Dōgen's pilgrimage to the sacred place of Avalokiteśvara on Mount Potalaka in China which not only conveyed the dharma but also document important aspects of his life.
Donations are appreciated at this time.
Teacher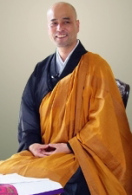 Shohaku Okumura, Roshi
Okumura Roshi represents one of a few Japanese Zen masters who traveled overseas to teach Western audiences about Buddhism. He brings with him the truly unique perspective of the practitioner-scholar. Okumura is one of those few people alive today able to convey the essentials of the vast, mostly untranslated (and therefore inaccessible) Japanese Zen canon to Western audiences. Uniquely, he combines this knowledge with the experience of a lifetime practicing zazen. In his writings and lectures, he illuminates Dōgen's texts from both perspectives. Born in Osaka, Japan in 1948, he studied Zen Buddhism and was ordained by Kosho Uchiyama-roshi in 1970. In Japan Okumura Roshi was a teacher at the Kyoto Soto Zen Center, and later at the Minnesota Zen Meditation Center in Minneapolis, Minnesota. For more than 30 years, he has led sesshins and Dharma study groups in the United States, Japan, Europe and Latin America. Shohaku Okumura is currently the Abbot of Sanshinji ("Three Minds Temple") located in Bloomington, Indiana. He is the founder and guiding teacher of Sanshin Zen Community, an international Buddhist sangha founded in 1996.
Learn more about Shohaku Okumura, Roshi