Ango Art Practice Series: All Forms are Buddha's Sutras
with Jody Hojin Kimmel, Sensei
April 30 - May 21, 2021
The Faith in Mind Sutra, Hsin hsin ming, is known as the first Zen poem credited to Seng-ts'an, the third Chinese Zen Ancestor. A few English translations of the title are: Trusting In Mind, Trust in the Heart, On Believing in Mind, Truthful Mind, Truthful Heart. This heart-mind always ready and perfect, no need to further "perfect" it.
Often we think of faith in terms of having faith 'in' someone or something. This is one aspect. There is also the simple, pure experience of faith itself—the firsthand, body-mind affirming experience of faith or trust—not necessarily 'in' something, but rather as having faith or being faith itself. What is this, when it's not an abstract or conceptual idea but something that is present within you? How do we express it? Come join this journey of the creative process.
If you're new-welcome to this online art practice collaboration, you can start where you are! We'll be working on Zoom, each of us from within our home studio, in whatever medium(s) you would like to explore. Hojin will guide us in zazen and with prompts to spark the creative impulse.
10:30am-12pm on Fridays, April 30, May 7 & 21 
Participate in the series or come for one or more session. Drop-ins welcome; not necessary to be part of all sessions.
Your registration confirmation will include a link to the Zoom session.
Donations are appreciated at this time. 
Teacher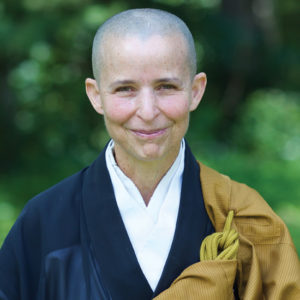 Jody Hojin Kimmel, Sensei
A Zen priest, Jody Hojin Kimmel, Sensei received transmission of the Precepts from Daido Roshi, who began the process in 2009, and from Shugen Roshi, who completed the transmission in 2012. In 2017, she received full dharma transmission from Shugen Roshi. She currently serves as MRO Director of Training and co-Director of the Zen Center of NYC. Before entering the Monastery in 1990, Hojin Sensei studied fine art and trained under legendary ceramicist Toshiku Takaezu, among others. Over the years she has taught drawing, ceramics, and painting, and continues to teach on the creative process within the Mountains and Rivers Order.
Learn more about Jody Hojin Kimmel, Sensei