A BIPOC Conversation
with Larry Yang
May 12, 2021
This event is reserved for those who self-identify as Black, Indigenous, Asian or People of Color*
We invite you to an evening of open dialogue with Larry Yang that will center the needs, experiences, and aspirations of those in the Mountain and Rivers Order who live outside of whiteness. We invite you if you are Black, if you are Indigenous, if you are Asian, if you are Latinx/a/o,  if you claim any identity that is marginalized by the embodied white supremacy that is present in most of the institutions and communities we are part of—including within our sangha.
This space will not be a retreat, or a dharma talk, but a space for us to be tender with our experiences and wounds and hopes—to be in community. What do we need to do for each other and ourselves? What do we deserve from the wider MRO sangha? This conversation will be a closed space reserved for non-white identified people.
*Unpacking the BIPOC term*
We hope that this unpacking of the term BIPOC reflects an identity that is affirming to you, but we also acknowledge that it may not honor your own specific experience or self-identification. In either case, we want to welcome you. Please note this event is for Black, Indigenous, and People Of Color, bodies of culture, people of the global majority, or racialized, inclusive of East Asian, Southeast Asian, South Asian, Pacific Islander, Native Hawaiian, Latin American, Caribbean, Arab/Middle Eastern, biracial, mixed heritage, multiracial, and any others identifying as non-white. *If you have additional suggestions for unpacking the BIPOC term, please email bipoc@dharma.net. 
Your registration confirmation will include a link to the Zoom session.
Donations are appreciated at this time.
Teacher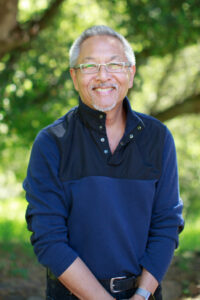 Larry Yang
Larry Yang teaches mindfulness and loving kindness retreats nationally and has a special interest in creating access to the Dharma for diverse, multicultural communities. Larry has practiced meditation for almost 30 years with extensive time in southeast Asia, and a six month period of ordination as a monastic under the guidance of Ajahn Tong. Larry is on the Teachers Council of Spirit Rock Meditation Center, and is one of the core teachers of both East Bay Meditation Center (Oakland) and Insight Community of the Desert (Palm Springs). His current focus is training spiritual leadership within Communities of Color and LGBTQI communities. Larry was honored for his work in equity  and inclusion by being selected as the community's choice for Grand Marshal in the 2016 San Francisco LGBTIQ Pride Parade, whose theme was "For Racial and Economic Justice." He has been developing community meditation teachers in Spirit Rock's Community Dharma Leadership Program for 10 years, and is one of the core trainers for the current Spirit Rock Dharma Teacher Training Program to develop fully empowered Dharma teachers in multicultural communities. In addition, Larry is trained as a psychotherapist and a consultant in cultural competency and organizational awareness—giving workshops and presentations on…
Learn more about Larry Yang