Trans- and Gender-Non Conforming (TGNC) Inclusivity Training
with Elise Diamond
August 5, 2021
This summer we are offering the second Trans- and Gender Non-Conforming (TGNC) Inclusivity training session on Thursday August 5, 6:30-8:30pm. Particularly helpful for those who do not have a clear sense of TGNC identities, or for those who wish to deepen their understanding, we are offering this training as part of our commitment to diversity and inclusion. The curriculum, part of a New York State Department of Health Initiative, teaches about language and terminology, creating a safe and welcoming environment and ways to build trust with the LGBTQ+ community.
The categories of "male" and "female" carry all kinds of cultural assumptions about how a person should behave or what kind of body they should have. Some people don't fit the expectations that often come with these categories, and some people identify outside of the male/female binary altogether. An identity outside the male/female binary is sometimes referred to as "non-binary," "genderqueer," and sometimes referred to as "gender non-conforming." Transgender is a term used to refer to people whose gender identity is different from the sex they were assigned at birth. Educating ourselves about gender identity is an important way that we can continue to develop a culture in the MRO where everyone feels welcome.
This two hour seminar provides information on gender identity and allows plenty of time for discussion and questions. MRO monastics, lay seniors and board members who identify as cis-gendered (someone whose gender identity is the same as the sex they were assigned at birth) have all taken this training and found it very helpful. We're glad to make it available to the sangha at large.
Led by Elise Diamond (they/them) through the Kingston LGBTQ+ Center, this two-hour session will focus on trans-competency and also include LGBTQ+ inclusiveness training. Thursday August 5th, 6:30-8:30pm
Your registration confirmation will include a pre-session survey (please fill this out out to help customize this retreat by Thursday July 29th). The zoom link will be sent to you before the retreat begins.
There is no charge, but donations are appreciated to help support our efforts during this time.
Teacher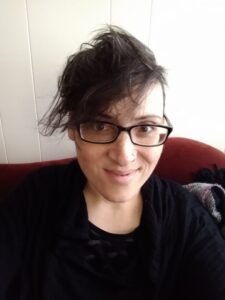 Elise Diamond
Elise Diamond is a nonbinary and queer musician, performer, parent, cultural competency trainer, and mental health peer specialist. Elise is very excited to share not only how we can create welcoming environments for gender-marginalized people, but also how embracing radical queerness and gender diversity can incite healing and liberation for everyone.
Learn more about Elise Diamond