Nuts & Bolts of Zen Practice: Taking The Path
with Ron Hogen Green, Sensei
June 18, 2021
Sitting quietly in the sun: the ancient way
wind blowing through my body
…is my body.
Excluding others, the land itself, cries for us
in our deafness how can we hear?
I sing my songs to help.
I'll never tire of this life.
This is the first in a monthly series of seminars with lay dharma teacher Hogen Sensei.  The evening seminar will explore the intimate fundamentals of practice, with ample time for questions and discussion. Topics include:
There is a path—The Tao
Making it personal—It is my business
Zazen as home base—Breath and the mind of concentration
Living a life that holds all of me
Accepting myself—You can't do this wrong
Self and selflessness
Friday, June 18th, 6:30-8pm
Donations are appreciated to help support our efforts during this time.
Teacher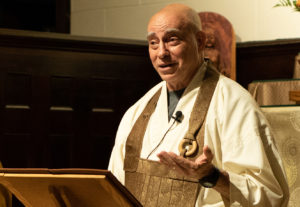 Ron Hogen Green, Sensei
Hogen Sensei has been engaged in formal Zen practice since 1978, and was in residential training at the Monastery for twelve years before returning to lay life in 2007. He shares his time between the Zen Center of NYC and rural Pennsylvania, where he lives with his family. Hogen received dharma transmission from Shugen Roshi in 2016.
Learn more about Ron Hogen Green, Sensei