On-site Intermediate Kyudo: Zen Archery Intensive
with Tom Honen Kyle and Grace DiNapoli
August 4 - 8, 2021
For people who have already done their "first shot" at the Monastery or elsewhere, this is one of the foremost Kyudo training opportunities in the US. You'll receive personalized instruction in the principles of the kyudo form as well as formless aspects of Kyudo as a meditation practice.  Co-led by Tom Honen Kyle, MRO student, and Grace DiNapoli, both Kyudo teachers located in nearby Vermont.
Please inquire if you have question of eligibility; next year we plan to again offer the Introduction to Kyudo Retreat but for this Intermediate Retreat, basic familiarity is required. Equipment is available as needed; please indicate this in your registration. Arrival time is by 5pm to join us for 6pm supper on Wednesday, August 4th.
All participants must be completely vaccinated. Thank you.
Teachers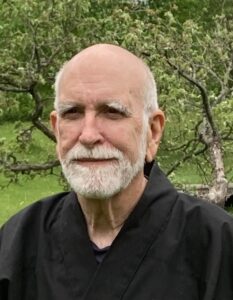 Tom Honen Kyle
Honen started practicing kyudo in 2005. He took his 'first shot' at Zen Mountain Monastery where he is an MRO training student. For Honen the practice of kyudo is a gateway to his formal Zen studies. He now teaches at his home in Barre, Vermont, has begun to make his own yumis (bows) and yas (arrows), and assists in "First Shot " programs both at his home and at Karme Choling, a Shambhala training center in Barnet, Vermont.
Learn more about Tom Honen Kyle
Grace DiNapoli
Grace started practicing kyudo in 2009 and has held the practice of kyudo at Seiko Kyudojo in Barnet, Vermont since 2012. As overseer of kyudo events at Karmê Chöling she has hosted programs with Don Symanski as well as Kanjuro Shibata XXI.
Learn more about Grace DiNapoli