Circles on the Water: A Wilderness Retreat for Women
With Jody Hojin Kimmel, Sensei
July 9 - 15, 2018
This program is currently full.
Few things compare with the dappled beauty of our northern lakes in the bright green summer. This calmness and serenity rest on a great depth of being, an unselfconscious state of grace, in which all things have their place. Apparent simplicity hides complexity, and absorbing the clarity of this environment can help us find the still point within.
Join us for a week long canoe, meditation and art retreat in the Essex Chain of Lakes. This interconnected series of lakes provides a protected yet remote environment to bring the concentration of zazen into daily life. Short initial canoe carries provide access to the majority of lakes that allow lakeside camping. The practical skills of canoe strokes, rescues and environmental awareness needed for safe trip planning will be introduced and developed throughout the trip. Daily paddling will be integrated with zazen and art practice.
Teacher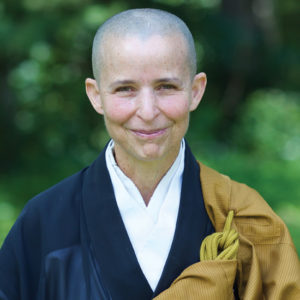 Jody Hojin Kimmel, Sensei
A Zen priest, Jody Hojin Kimmel, Sensei received transmission of the Precepts from Daido Roshi, who began the process in 2009, and from Shugen Roshi, who completed the transmission in 2012. In 2017, she received full dharma transmission from Shugen Roshi. She currently serves as MRO training coordinator and co-Director of the Zen Center of NYC. Before entering the Monastery in 1990, Hojin Sensei studied fine art and trained under legendary ceramicist Toshiku Takaezu, among others. Over the years she has taught drawing, ceramics, and painting, and continues to teach on the creative process within the Mountains and Rivers Order.
Learn more about Jody Hojin Kimmel, Sensei