Opening Together: Gathering of the ZCNYC Sangha
with Jody Hojin Kimmel, Sensei
June 17, 2021
For ZCNYC Sangha Members:
At this gathering, we'll reflect on the last 15 months and consider how we can encourage and support one another as we emerge from our long hibernation.
We would like to hear from our sangha about the visions you have for opening together. How might the Temple help you deepen (or re-establish!) your practice? What are you yearning for? What sort of programs might help you develop your Dharma practice? Zazen intensives? Art retreats? Academic study? Right action and anti-oppression work? Zen kids programs? What sort of online offerings would you like to see continue? How do you envision a vital urban practice center?
We'll also talk hear from a few of the Temple Advisory Committee members about ongoing reopening plans, our summer schedule in the workings and some of the changes that have been taking place with regard to the Temple staff and building improvements.
Your registration confirmation will include a link to the Zoom session.
Teacher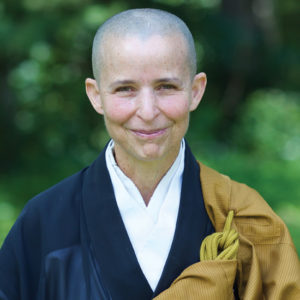 Jody Hojin Kimmel, Sensei
A Zen priest, Jody Hojin Kimmel, Sensei received transmission of the Precepts from Daido Roshi, who began the process in 2009, and from Shugen Roshi, who completed the transmission in 2012. In 2017, she received full dharma transmission from Shugen Roshi. She currently serves as MRO Director of Training and co-Director of the Zen Center of NYC. Before entering the Monastery in 1990, Hojin Sensei studied fine art and trained under legendary ceramicist Toshiku Takaezu, among others. Over the years she has taught drawing, ceramics, and painting, and continues to teach on the creative process within the Mountains and Rivers Order.
Learn more about Jody Hojin Kimmel, Sensei