Live Lines: Exploring the Four Immeasurables through the Creative Process
with Jody Hojin Kimmel, Sensei and Vanessa Zuisei Goddard, Sensei
July 20 - 22, 2018
Words have power. They can shed light on complex concepts, facts and the history of the tradition; inspire our aspiration to raise the Bodhi mind, or the mind of enlightenment; and even help us break through to the great reality of things. But words can also seduce us into thinking: I've got it. When caught in knowing, we might ask: what is this "it" that words point to?
In this retreat, we'll reflect on the Four Immeasurables—lovingkindness, compassion, joy and equanimity—and bring them to life through the creative process. Using writing, painting and live dialogue, we'll explore this teaching beneath the surface of words. We'll also create our own liturgy and dedications, connecting with the sincerity (and playfulness!) that opens the heart and mind to these inexhaustible and profound teachings of the Buddha.
Teachers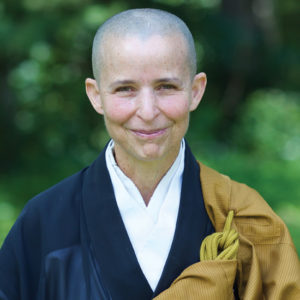 Jody Hojin Kimmel, Sensei
A Zen priest, Jody Hojin Kimmel, Sensei received transmission of the Precepts from Daido Roshi, who began the process in 2009, and from Shugen Roshi, who completed the transmission in 2012. In 2017, she received full dharma transmission from Shugen Roshi. She currently serves as MRO training coordinator and co-Director of the Zen Center of NYC. Before entering the Monastery in 1990, Hojin Sensei studied fine art and trained under legendary ceramicist Toshiku Takaezu, among others. Over the years she has taught drawing, ceramics, and painting, and continues to teach on the creative process within the Mountains and Rivers Order.
Learn more about Jody Hojin Kimmel, Sensei