The Vicissitudes of Life
with Mn. Gokan Bonebakker
July 29, 2021
The Buddha's teaching on the Eight Worldly Conditions – praise and blame, gain and loss, pleasure and pain, fame and disrepute – points to some of the primary ways that we cause suffering, and the unstable sense of self that we try to rely on. Always worried about doing something wrong and being blamed, trying to do something right so that we receive praise, wanting to get and fearing to lose, searching for pleasure and avoiding pain, how can we find peace and equanimity?
In this seminar we'll use this teaching to look at our conditioning and attachments, our sense of self, and how this understanding of mind can lead to more ease in our lives.
Our online programs are offered by donation so that everyone can participate. We appreciate your support.
Teacher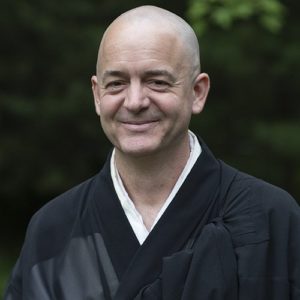 Mn. Gokan Bonebakker
Bear Gokan Bonebakker first came to the Monastery in 1994, and has been in residence since 2007. He was ordained in 2014. Gokan is the Operations Director, helps coordinate the National Buddhist Prison Sangha, and works in the orchard.
Learn more about Mn. Gokan Bonebakker