Summer Art Practice Series: Luminous Visions
with Jody Hojin Kimmel, Sensei
August 6 - 13, 2021
Mind is like an artist, Able to paint the worlds:
The five clusters all are born thence; There's nothing it doesn't make.
As is the mind, so is the Buddha; As the Buddha, so living beings:
Know that Buddha and mind are in essence inexhaustible.
If people know the actions of mind create all the worlds,
They will see the Buddha and understand Buddha's true nature. 
-Flower Ornament Sutra
The starting point for Huayan Buddhism is the lengthy Flower Ornament Sutra, known in Indian Sanskrit as the Avatamsaka Sutra. This text has a holographic quality, offering us sumptuous luminous visions, evocative imagery and exalted experiences of mind and reality. It also offers us a systematic presentation of the stages of development and an unfolding of the practice-activities of bodhisattvas.
In these art sessions we will enter the sutra first by bathing in the imagery, listening to it as a symphony rather than trying to decipher or interpret. We will recite parts aloud together in our ZOOM circle of practice friends using a traditional approach to sutra study, allowing the impact to inspire and illuminate with a concentrated meditative awareness and our expressions. Such vision can help to heal our individual confusion, grasping, and sense of sadness and loss. It points to our belonging to one another, interacting and being, without hindering each other in the slightest. Please join us.
If you're new-welcome to this online art practice collaboration, you can start where you are! We'll be working on Zoom, each of us from within our home studio, in whatever medium(s) you would like to explore. Hojin will guide us in zazen and with prompts to spark the creative impulse.
10:30am–noon on Fridays, August 6 & 13, 2021
Participate in the series or come for one or more session. Drop-ins welcome; not necessary to be part of all sessions.
Your registration confirmation will include a link to the Zoom session.
Our online programs are offered by donation so that everyone can participate. We appreciate your support.
Teacher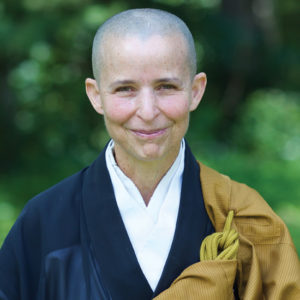 Jody Hojin Kimmel, Sensei
Hojin Sensei is the Abbess of the Zen Center of NYC and serves as the Director of Training for the Mountains and Rivers Order. She received transmission of the Precepts from Daido Roshi, who began the process in 2009, and from Shugen Roshi, who completed the transmission in 2012. In 2017, she received full dharma transmission from Shugen Roshi. Before entering the Monastery in 1990, Hojin Sensei received and MFA from the University of Kansas and trained under legendary ceramicist Toshiku Takaezu, among others. Over the years she has taught drawing, ceramics, and painting, and continues to teach on the creative process.
Learn more about Jody Hojin Kimmel, Sensei