Nuts & Bolts of Zen Practice: Zazen
with Ron Hogen Green, Sensei
August 13, 2021
Come said the muse,
Sing me a song no poet has chanted,
Sing me the universal.
—Walt Whitman
Zazen is the heart of Zen practice. It is your heart. Within the deep stillness of our being we bring forth this heart, and the heart of all beings.
Since the time of the Buddha, meditation in its various forms has been essential to practice and enlightenment. Because zazen is so experiential and personal, it is difficult to talk about and describe. But we do so in the interest of supporting each other in this journey of discovery.
Together we will explore zazen as the heartbeat of practice in it's different forms—such the four postures of the Buddha: seated, standing, walking and lying down— each with its challenges, benefits and joys. We will acknowledge that we always sit zazen within the mystery of creation, within the midst of our lives. With plenty of time for questions and comments, we will delve into this bottomless topic and continue to clarify our understanding and establish our stable groundedness in zazen together.
Friday, August 13th, 6:30–8:30 p.m.
Our online programs are offered by donation so that everyone can participate. We appreciate your support.
Teacher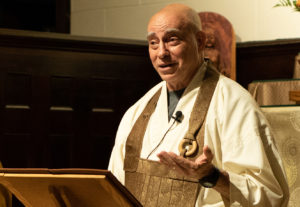 Ron Hogen Green, Sensei
Ron Hogen Green is a husband, father, grandfather, sports-enthusiast, retired podiatrist, and a lay teacher in the Mountains and Rivers Order. Hogen Sensei formally began practicing Zen in 1978 with Philip Kapleau Roshi, shortly after graduating medical school and entering private practice. In time, Hogen and his wife, Cindy Eiho Green, helped run the Denver Zen Center, an affiliate of Kapleau Roshi's Rochester Zen Center. He attended his first retreat at Zen Mountain Monastery in 1988, and not long after began studying with Daido Roshi. In 1993, Hogen completed his training in the Kapleau Lineage and was designated a senior student in the Mountains and Rivers Order. He and Eiho left Denver in 1995 and entered full time residency at ZMM. At the Monastery, Hogen served as Director of Operations for Dharma Communications for 10 years and, in 2000, ordained as a monastic. In 2007, Hogen Sensei returned to lay life, spending time with family while continuing to play an active role in the MRO, its practice centers and affiliates. In 2016, he received dharma transmission from Shugen Roshi, becoming the first lay teacher in the Order. He served as co-director of the Zen Center of NYC for a number…
Learn more about Ron Hogen Green, Sensei