"Perceiver of the World's Cries"—Avalokiteśvara Practices and Queered Identities
with Hsiao-Lan Hu
August 12, 2021
Avalokiteśvara (Ch. 觀世音Guanshiyin/Kuan-shih-yin, or simply觀音Guanyin /Kuan-yin; Jp. Kannon; Kr. Kwan Um; Vt. Quan An; Tbt. Chenrezig), "Perceiver of Cries of the World," is the Bodhisattva of Compassion widely revered in East Asian Buddhist societies. People chant their name, their mantra, the Heart Sūtra that opens with their title, the "Universal Dharma Gate" chapter of the Lotus Sūtra that says they would manifest in the form necessary (male or female, high-status or low-status, old or young, human or non-human) to deliver beings out of suffering.
This workshop led by scholar-practitioner Hsiao-Lan Hu will begin with personal experiences of the solace that "Perceiver of the Cries in the World" can provide and discuss what Avalokiteśvara's transformability can signify to queer persons, or anyone with any queered ("made strange") identity, as well as the interrelationship between compassion and wisdom. The workshop will also explore a few practices related to Avalokiteśvara, such as the Chinese chanting of "Namo Guanshiyin Pusa [Bodhisattva]," the chanting of Sanskrit mantra "Om mani padme hum," the chanting (or singing) of the Heart Sūtra, the chanting of the "Great Compassion dhāraṇī" and karuṇa meditation.
This retreat welcomes all practitioners—regardless of identities—who strive to deliver self and others out of suffering.
Thursday, August 12th, 7-9pm ET
Our online programs are offered by donation so that everyone can participate. We appreciate your support.
Teacher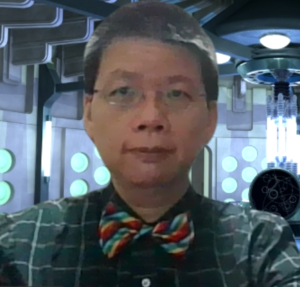 Hsiao-Lan Hu
Dr. Hsiao-Lan Hu (pronouns ze/hir) is a native of Taiwan and received Ph.D. with distinction from the Religion Department of Temple University. Ze is a professor of Religious Studies at the University of Detroit Mercy and the first person of color, first immigrant, and first queer/trans/non-binary person to serve as Director of Women's and Gender Studies Program at the university. Dr. Hu teaches broadly in Buddhism, Asian religions, women and gender issues in world religions, cultural studies of religions, and comparative religious ethics. Growing up multiply minoritized in an environment where Mahāyāna influences are pervasive, and having studied Buddhism academically as well as practiced with Chan, Pure Land, Theravāda, and Vajrayāna teachers, ze publishes in the areas of feminist social ethics, intersectionality issues in Buddhism, and pluralist pedagogy.
Learn more about Hsiao-Lan Hu