ZCNYC Noble Path Talk and Sharing the Wealth
with Jody Hojin Kimmel, Sensei
August 11, 2021
For ZCNYC Sangha Members:
The evening will open with a few minutes of zazen and then a Noble Path talk will be offered by a ZCNYC Sangha member sharing how they found their way to Dharma Practice. This affords us an intimate opportunity to meet our Dharma companions and appreciate how varied the responses are to the deepest calling of this great matter of being human. The speaker for August will be Sangha member, David Acevedo.
Following this we will delve into The Way of the Bodhisattva by Shantideva. Hojin Sensei will open the topic and each participant will have a chance to offer a few succinct minutes to share how we personally engage, reflect and integrate the teachings. In this way we can hear and learn from the collective wisdom of the community which deeply wishes to raise the Bodhi mind, practice good, and be of benefit.
The topic to examine for this evening will be Clear Intention. What is a clear intention for you? How does it get generated? What happens when it is unclear? What helps you have clear intention? Start on this now and being your insights to share. Sensei will be drawing from the text, No Time to Lose by Pema Chodron.
Your registration confirmation will include a link to the Zoom session.
Our online programs are offered by donation so that everyone can participate. We appreciate your support.
Teacher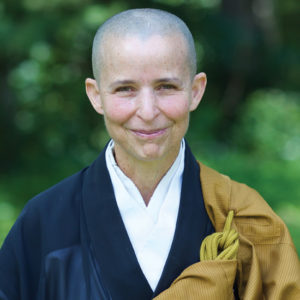 Jody Hojin Kimmel, Sensei
Hojin Sensei is the Abbess of the Zen Center of NYC and serves as the Director of Training for the Mountains and Rivers Order. She received transmission of the Precepts from Daido Roshi, who began the process in 2009, and from Shugen Roshi, who completed the transmission in 2012. In 2017, she received full dharma transmission from Shugen Roshi. Before entering the Monastery in 1990, Hojin Sensei received and MFA from the University of Kansas and trained under legendary ceramicist Toshiku Takaezu, among others. Over the years she has taught drawing, ceramics, and painting, and continues to teach on the creative process.
Learn more about Jody Hojin Kimmel, Sensei